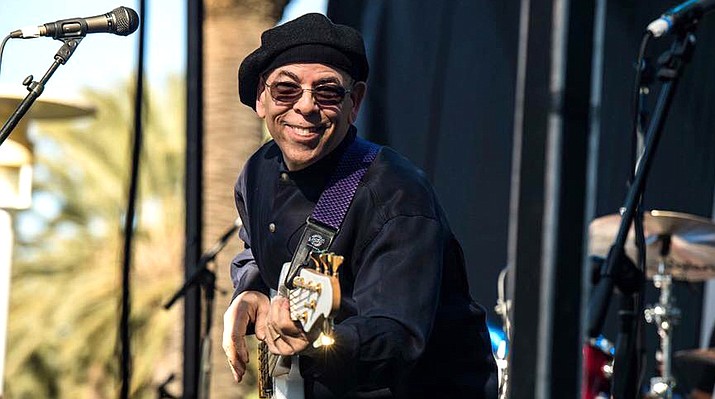 ---
---
Arizona Music Hall of Fame Icon Walt Richardson has quite a history in Arizona, and will be performing at Sound Bites Grill Sedona on Saturday, June 9th starting at 7 p.m.
This performance is going to be special one because on stage with the band will be Emmy Award Winner Mahlon Hawk. Bass player Mahon is proficient in styles ranging from acid jazz and funk to rock and blues. Panamanian-born Hawk firs came to California in 1970, becoming a hot property as both a live and session player not long thereafter, including recording the score for the mid-70's skateboard feature film "Go For It".
In 2002 worked on the sound track for a PBS Special with Bob Stewart and Franc Ortega. The trio won an Emmy award for the score. Mahlon has many accolades. In Arizona and at the 2009 NAMM Show in California, Hawk played several dates with drummer Bernard "Pretty" Purdie (of Aretha Franklin and Steely Dan, and the original orchestra for "Hair" in the 60's and again in the late 2000's) and with Carmine D'Amico, 24-Grammy Award winning studio musician.
With the Walt Richardson and Friends Band it is always great to see who he is going to bring on stage with him.  Also performing will be Gigi Gonaway, former drummer for Mariah Carey, Steve Winwood, and Aretha Franklin.  Drew Hall the guitarist for The Cheektones, and formerly with Big Daddy D and the Dynamites,.
Get ready to dance as this is a very high energy Reggae Rock Band performing funk, fusion, reggae rock and even a little blues. The doors open at 5:30 p.m. and the band performance is from 7-10 p.m.
On Walt's 60th birthday in 2014, Tempe declared January 18th to be 'Walt Richardson Day', and he was the first artist enshrined on the Tempe Music Walk of fame.
Having started as a street musician and working his way up to world tours, he has always made Tempe his home base, and celebrates the city in his songs.
Influenced by the Beatles; Bob Marley, Carlos Santana, Cat Stevens, Jimi Hendrix, and Bob Dylan - Walt Richardson is a multi-faceted; self-taught musician, starting his love affair with the guitar at age nine. His music is derived from his own spin of Folk, Rock, Reggae, with African and Latin influences - best called, 'World Reggae Folk'.
"I am a soul, living out and enjoying life as a songwriting, storytelling, and performing musician…"- Walt Richardson
Through music and travelling, he has had the opportunity to meet great artists like Carlos Santana, Burning Spear, and Taj Mahal to name a few. He has shared the stage with bands including Third World & Ziggy Marley. A longtime fixture of the local music scene - from backyard house parties to coffee houses, wine bars to night clubs, and concert stages - they all resonate with this energetic; multi-talented musician. Walt says, "It is and incredible feeling to be able to fill the air with music, and be part of its marvelous effect on people."
This is a ticketed event, and admission for the show starts at $20. Call (928) 282-2713.
Sound Bites Grill is located at 101 N Hwy 89A at the Hyatt Shops in Sedona.  www.soundbitesgrill.com