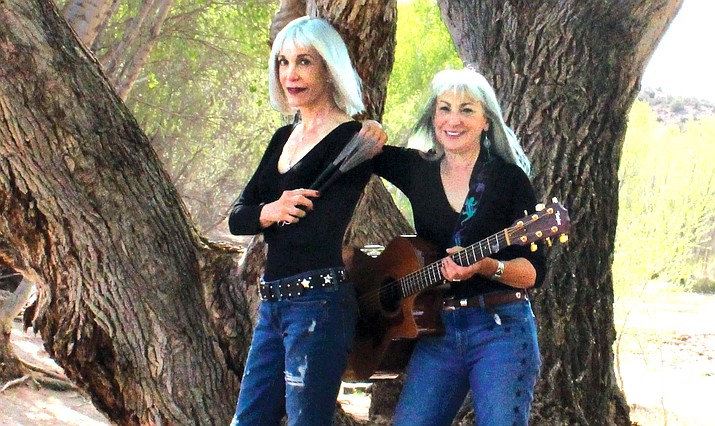 ---
---
The Grasshopper Grill, at the corner of Page Springs and Cornville Roads, this week features live entertainment Tuesday and Thursday through Saturday. Starting at 5:30 p.m., the region's most popular and talented singers, songwriters, instrumentalists and bands cycle through this locals' favorite Cornville restaurant and bar.
The entertainment week kicks off Tuesdays with the relaxed style of Rick Busbea. Busbea offers up a great mix with a focus on covering favorites like Kenny Chesney and Jimmy Buffet. Here Cheeseburger in Paradise" takes on a whole new meaning. Not to be limited, however. Rick fears no genre and can be counted on to fill a wide range of requests from the furthest reaches of popular music.
Thursday, June 7, The Raven Sisters make their debut appearance in the Grasshopper lounge. These real sisters, Jo on guitar and Nora on the cajon drum, roll out an eclectic mix of standards, rock, country, R&B, and even dig into the swampy sounds of the Delta Blues. Dressed and rehearsed to a tee, The Raven Sisters hang their hats on innovative arrangements, audience appeal, a tight show, and well-honed vocal harmonies. With The Raven Sisters, let this Thursday be your new Friday.
Friday, June 8, its PK Gregory bringing his 21st century version of the one-man band to the Grasshopper lounge. PK rolls out an amazingly rich performance featuring clean country-blues fingerstyle guitar, soulful harmonica, excellent vocals, and tasty live acoustic percussion backing on the Farmer Foot Drums. Notable is you will hear no cover tunes. All his material is original. The result is one of the most entertaining performances to be seen and heard anywhere in the Verde Valley.
Saturday, June 9, come see the VanReed Brothers. This duo, comprised of Michael Reed on saxophone and Van Johnson (guitar and keyboards), offers up a fresh look on old favorites. With decades of pro performing between them, these two blend and bend the classic rock genre in a particularly entertaining way. Reed on saxophone is well known in the Verde Valley to pull off tasty, imaginative solos and interludes. Johnson holds down the vocals and guitar work. Together, an energy emerges that fills the room with great rhythm, familiar melody lines and solid delivery that well suits the intimate confines of The Grasshopper Grill's lounge venue.
The Grasshopper Grill is open from 11 a.m. to 9 p.m. daily, located at 1160 S. Page Springs Road, Cornville. (928- 649-9211)