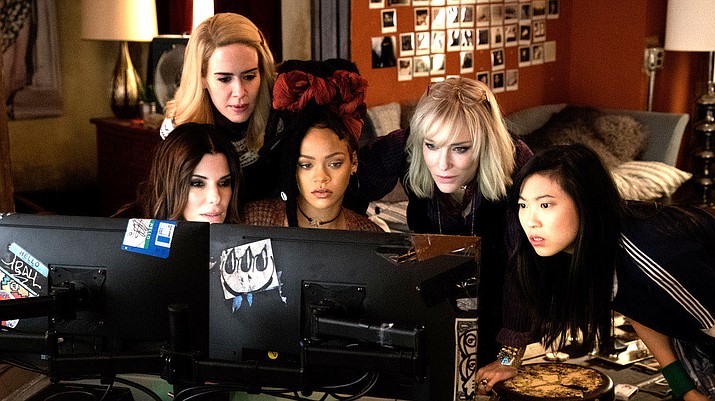 ---
---
Ocean's 8
Warner Bros.
Director: Gary Ross
Writers: Gary Ross, Olivia Milch
Producers: Steven Soderbergh, Olivia Milch, et. al.
Cast: Sandra Bullock, Cate Blanchett, Anne Hathaway, Dakota Fanning, Matt Damon, Helena Bonham Carter, et. al.
Danny Ocean's estranged sister Debbie attempts to pull off the heist of the century at New York City's star-studded annual Met Gala. Her first stop is to assemble the perfect crew: Lou, Rose, Daphne Kluger, Nine Ball, Tammy, Amita, and Constance.
Rated PG 13.
Hereditary
A24
Director: Ari Aster
Writer: Ari Aster
Producers: Kevin Scott Frakes, et al.
Cast: Toni Collette, Gabriel Byrne, Alex Wolff, Milly Shapiro, Mallory Bechtel, et. al.
When Ellen, the matriarch of the Graham family, passes away, her daughter's family begins to unravel cryptic and increasingly terrifying secrets about their ancestry.
Rated R for horror violence, disturbing images, language, drug use and brief graphic nudity.