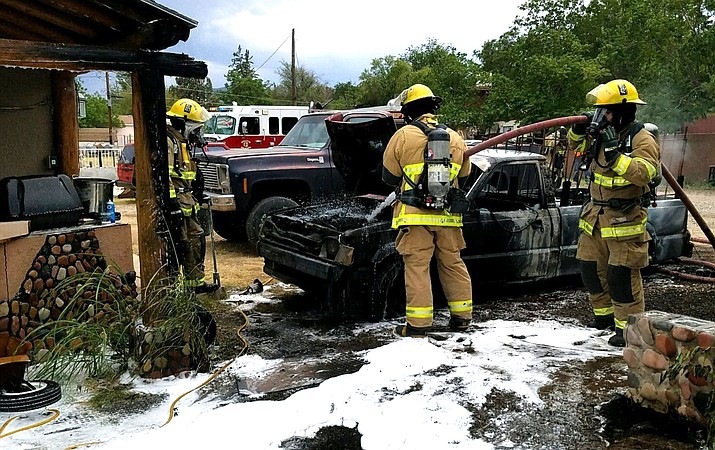 Originally Published: June 14, 2018 9:43 a.m.
COTTONWOOD – What began as a vehicle fire quickly spread to two homes Tuesday.
Cottonwood Fire & Medical Department was called at 1:47 p.m. Tuesday to a house fire in the 1300 block of East Gila Street in Cottonwood. Calls to 9-1-1 reported smoke and flames from the house.

According to a news release from the city, "Upon arrival, Cottonwood Fire Engine 411 found a well-involved vehicle fire with two adjacent houses igniting from the radiant heat of the fire. Firefighters initiated a quick attack on the vehicle fire and immediately worked to extinguish the fires on the fascia and eaves of both adjacent houses. Cottonwood Engine 421 secured a water supply from a new fire hydrant located at the intersection of North 12th Street and East Graham Street. The fire was brought under control within a few minutes of fire personnel arrival. One occupant and a dog were evacuated from one of the homes. The other home was unoccupied at the time of the fire. No injuries were reported."

The news release also stated Arizona Public Service responded to replace the electrical service line to one of the homes damaged by the fire. Verde Valley Fire District Engine 361 responded and assisted in making sure no hot spots remained. Verde Valley Ambulance provided an ambulance and rehab unit to hydrate firefighters working on the incident in 100-degree temperatures. Cottonwood Police assisted in rerouting traffic around the incident and relocating the evacuated pet.
The fire cause is under investigation, according to the news release.
The older model Mazda pickup truck is a total loss and damage estimates to the two homes is $6,000. Occupants of both homes were permitted to return to their homes.