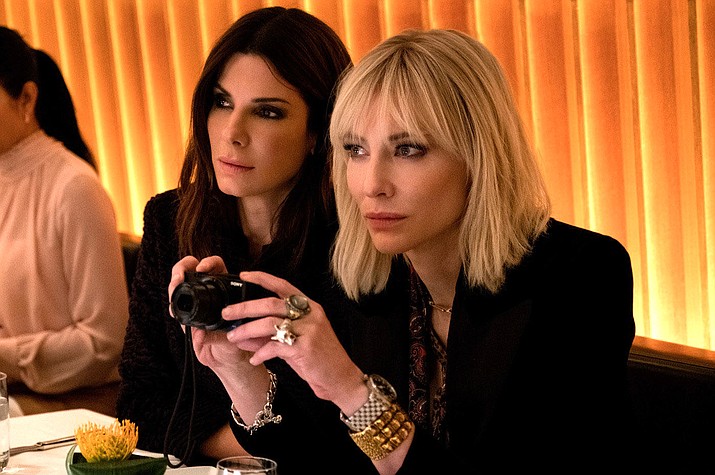 ---
---
Ocean's 8 is another in the series of high-powered caper stories that promises more than it delivers. The major added feature here is that the team of thieves, all experts, are women. The connection to past series entries is the leader, Debbie Ocean (Sandra Bullock).
She is the sister of Danny Ocean (George Clooney), now deceased. The film starts with Debbie being released from a 5-year prison term. She is totally rehabilitated, convinced about the honest way of life and promises to be an honest citizen. Not a chance.
Debbie has spent the five years planning a massive heist in New York at a major Metropolitan Museum of Art event. As in the Clooney versions, she gathers a team which includes her lifelong friend and partner in crime, Lou (Cate Blanchett). The others include Amita (Mindy Kaling), Tammy (Sarah Paulson), Constance (Awkwafina), Nine Ball (Rihanna), Rose Well (Helena Bonham Carter) and April (Midori Francis).
Anne Hathaway is Daphne Kluger, a celebrity fashion designer. She is at the event and she is designated to wear the Met's outstanding piece of jewelry — a diamond necklace valued at 160 million dollars. That's Debbie's target. Much of the film is devoted to the planning and setting up for the caper. There are setbacks and problems along the way but the plan proceeds. They have a way, thanks to the skill of one of the group, to accurately reproduce the necklace with zircon stones. Each member of the team has a talent to overcome a major obstacle in the plan. And it happens. Unrelated incidents, like a clumsy busboy, are easy to deal with. But they are also able to manipulate the Met's high-tech security system and personnel. Debbie has a motive that is deeper than the value of the diamonds; she is able to wreak revenge on the boyfriend whose duplicity sent her to prison. The ending of Ocean's 8 has a big surprise, much different than the ending of the original Ocean's 11 (the Rat-Pack version, 1960). The plot of this film is short on suspense and has a modest amount of humor. The acting is fine by all the women, but it comes across as just another caper film in a series. Look for cameo appearances by Elliot Gould, Marlo Thomas, Dakota Fanning and others.
Ocean's 8 is at Harkins Sedona 6 theater.