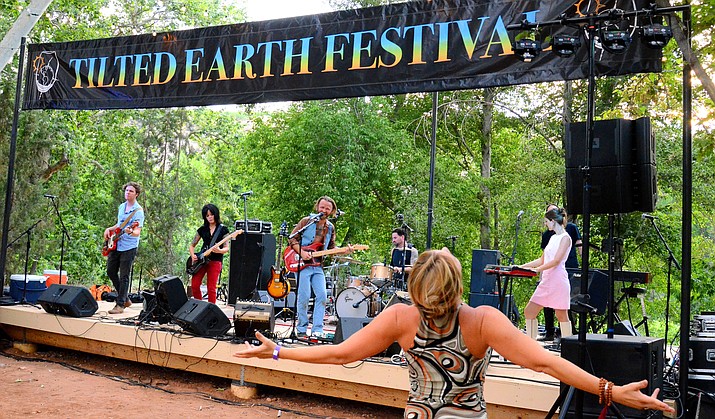 ---
---
If You Go ...
• What: Tilted Earth Music Festival
• When: Schuerman Dinner, June 22, Tilted Earth Festival June 23, Doors open 5:30 pm, Music Starts at 6 pm
• Where: Page Springs Cellars is located at 1500 N. Page Springs Road, Cornville.
• How Much: General admission tickets for $65 now or can be purchased at the door for $75.
• More Info: Parking is free and is off-site so consider carpooling. There are shuttles. The Dancing Apache Ranch off Page Spring Road is the primary Parking Area.
Eric Glomski doesn't want bigger, he wants better.
So for the second year in the row the Tilted Earth Festival returns to the banks of Oak Creek at the Page Springs Cellars. The fifth annual Tilted Earth Festival is Friday, June 22, and Saturday, June 23. The Schuerman Dinner is Friday and the music festival is Saturday. Music starts at 6 p.m.
"We'll have more food. More and better food this year," explained Glomski. "We are going to have our craft wine cocktail booth, we'll have three wineries up here on the river deck."
The winery also has set higher goals for their fundraising portion of the event.
"We want this to be intimate and special," Glomski said referring to the festival in the vineyard which used to be at Riverfront Park in Cottonwood two years ago. It was much larger in Cottonwood.
The concert is in the woods surrounded by the cool shadows of tall trees. Festival-goers enjoy wine made from grapes growing around them as they relax on couches and lawn chairs.
At the show, concert goers will be able to purchase any of the Page Springs Cellars, Arizona Stronghold and Painted Lady wines by the glass or by the bottle.
The tickets are all general admission this year, and wine and food is purchased separately, Glomski said. General admission tickets are currently on sale for $65 or can be purchased at the door for $75. Each GA ticket includes free parking, water, and a stemless tasting glass.
They decided not to include wine tastings in the tickets this year. Also, there will not be any VIP tickets, Glomski continued. The VIP space will only go to sponsors.
People are getting four bands, but the winery is also trying to raise money for non-profit charities with the event, Glomski said. This includes Yavapai Big Brothers and Sisters, Friends of the Verde River, the Arizona Culinary Institute and Prescott Creek which preserves the headwaters of the Verde River.
In addition to live music, festival goers will enjoy a wine, the gourmet food tent, horseshoes, massage services, children's area and a silent auction benefiting three local charities.
Festival doors open on Saturday at 5:30 p.m. with live music beginning at 6 p.m. This year's musical lineup includes:
• PK Gregory – 6 to 10 p.m. (wine garden)
• Pierce Edens - 6:30 to 7:45 p.m. (main stage)
• Greyhounds - 8:15 to 10 p.m. (main stage)
• The Suffers – 10:30 p.m. to midnight (main stage
The opening act, Pierce Edens, is an amazing singer songwriter with a Tom Waites kind of voice who is from Appalacia and he's getting bigger and bigger.
The second band, Greyhounds, are from Austin and Glomski said he saw them open for the Tedeschi/Trucks Band. The singer's voice reminded him Marvin Gaye and they used and organ. "I thought this guy's so soulful."
"They were so good, I pitched them and said, look guys we're not a wealthy venue but we'll make up for it with a nice place to stay, a bunch or wine, great food and a beautiful venue," Glomski told them. After about six months he signed them.
"If they're good enough for Tedeschi/Trucks, they are good enough for us," he added. "I think they are going to be the sleeper of the show."
The Suffers have a full-horn section, a charismatic female singer, a funky-soul-jazz eight-person band. "They are going to be a powerful headliner."
It's a diverse set of music that will appeal to a lot of different people, Glomski said.
Parking will be off-site, but Sedona Winery Tours will have buses going all night long to the parking area at a nearby ranch.
There will be a children's area that teaches them about floods and water and a face painter.
The big thing Glomski said he wanted to remind people of is that it gets cool on the river at night. Festival goers should layer clothing because even though it's hot during the day, it can get down to the high 50s and low 60s at night.
Guests are encouraged to bring blankets and chairs but leave pets at home. The festival will run rain or shine. Page Springs Cellars is located at 1500 N. Page Springs Road, Cornville.