Mingus Union football closes out 7-on-7 schedule with more wins
Originally Published: June 28, 2018 3 p.m.
Mingus Union football wrapped up the 7-on-7 portion of the summer on Wednesday with some more wins and some different looks.
The Marauders hosted Sedona Red Rock and Chino Valley for 7-on-7 games, beating both the Scorpions and Cougars.
"We played alright," Mingus head coach Robert Ortiz said. "We beat Sedona, we beat Chino, got a little scrimmage in time with our ones versus twos, making sure that we're competing against each other. Overall the kids are minimizing their mistakes, learning everything that they need to be learning but still looking for the intensity part of it."
The Mingus Union varsity played Chino Valley three times, Sedona Red Rock once, while also scrimmaging against themselves and playing the younger Marauders.
"I think we did good, we looked good (Wednesday), there's still things we need to work on when we start out, coming off faster rather than flat but we looked decent," senior Chaz Taylor said.
The Marauder linemen also played against the youngsters in 7-on-7 and against the skill players. Normally 7-on-7 games are backs and receivers against linebackers and defensive backs.
The varsity wore white shirts and the younger players black shirts. The younger squad is a combination of freshmen and sophomores.
Photo Gallery
Mingus Union 7 On 7 June 27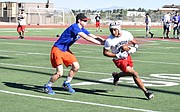 On June 27, Mingus Union football hosted Sedona Red Rock and Chino Valley for 7-on-7 games. VVN/James Kelley
"The young guys are doing good, they're coming along really great actually," Ortiz said. "They've actually progressed a lot quicker and caught on a lot faster than I thought they would. So that's good for development for the future."
Eventually they will be split up based on class.
The youthful players have impressed the varsity Marauders.
"They've been doing good, they've been working hard in the weight room, we've been really pushing them to do as much as they can and we've been pushing them on the field too and they've done a really good job," senior Alex Nelson said.
The Marauders hosted three days of 7-on-7 games and also played in a 7-on-7 tournament at ASU. This weekend they will go on the Senior Retreat.
Nelson said they did well in 7-on-7s.
"We improved overall, now we just got to get prepared for the pads," Nelson said.
Mingus Union will go to the Winslow camp July 19-22.
Then on July 23 they put on the helmets for three days, then shells, then full pads on July 30.
School starts for upperclassmen on Aug. 2, then on Aug. 3 is the Red & Gray Scrimmage. On Aug. 8 they will participate in a 4-way scrimmage and then on Aug. 17 is the season opener against San Tan Valley Combs at home.
Taylor impressed during Wednesday's 7-on-7 games, catching touchdowns and grabbing interceptions.
"It was fun," Taylor said. "In the beginning I was having a little bit of trouble because I haven't been here the last two weeks for the 7-on-7s, so it's kind of a hard time reading the quarterback, but I got back into it and was able to get the feel for it again."
Taylor has been splitting his summer time between church activities, club and school basketball and football.
"He played well," Ortiz said. "He's been doing club basketball, basketball for the school and then making it here so he's been pretty busy all summer but we got Danny and other guys holding it down, doing what they need to do too. Chaz will be just fine once we get him here all the time."
Ortiz said seniors Danny Rodriguez, Mardquez Mestas and Fabian Jimenez have impressed so far.
"They're doing a great job, they're learning, they just need to be a little bit more consistent play," Ortiz said. "Mardquez Mestas has done a good job of learning, stepping up and rising to the challenge of stepping into that role within football but a big shocker for me was young Jonny (Sanchez) coming out and stepping and getting some reps in with the older guys and standing out a little bit, which is good."
Red Dot staging golf tournament
Next month the Marauders' booster club will hold a fundraiser golf tournament.
The First Annual Red Dot Football Club Golf Tournament will be on July 14 at the Sedona Golf Resort. Registration is at 6 a.m. and it is a 7 a.m. shotgun start.
It will feature 18 holes of golf, a golf cart, lunch, longest drive contests for men and women, closet to pin and raffle prizes.
The cost is $90 per player, $360 per foursome. Hole sponsorship opportunities are also available at $300 per hole.
Registration is due July 6.
All proceeds go to Red Dot, which goes to equipment and uniforms. For more information go to their website, reddotclub.info.
Make checks payable to Red Dot Club and mail payment to PO Box 4241 Cottonwood, Ariz. 86326. Credit cards are also accepted.
Mingus kids camp coming up
Next month will also feature the Mingus Marauders Youth Football Camp.
The camp is for boys and girls 5-14 years old. It will be July 16-18 5:30 p.m. to 7:30 p.m. at Bright Field at Mingus Union High School.
The cost of the camp is $20 and a t-shirt is included.
Contact Ortiz at rortiz@muhs.com or HDYF/Cottonwood AYF president Danica Briseno danicabriseno@hotmail.com for more information.
More like this story
SUBMIT FEEDBACK
Click Below to: