Cottonwood City Council Election 2018: Doug Hulse
Originally Published: June 30, 2018 1:20 p.m.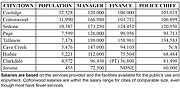 Question: Are city employee salaries too high? If yes, what do you base this position on and what comparisons have you made that support your opinion?
No. I chose the 2018 Local Government Salary and Benefit Survey conducted by the League of Arizona Cities and Towns and have noted nine cities and towns with populations similar to or less than the population of Cottonwood (See chart). Some smaller towns pay as much or more than we pay.
Question – The city has prepared a comprehensive analysis for providing water both inside and outside the city and found that costs are higher to provide water outside the city.  The city council voted to institute higher rates for customers outside the city limits based on this data.  Would you keep this differential rate structure?  Please explain your answer.
Yes. The costs to service the wells and equipment outside the city are far greater due to several factors including distance, terrain, greater percentage of leaks, difference in distribution systems (in city, seventy percent is gravity fed; outside city is a pressurized system using pumps and electricity). Most Verde Village water lines were buried next to a 7200-volt power line increasing maintenance costs. Many meters are in small overgrown easements making meter reading more costly. There are fourteen small wells outside the city limits compared to nine wells inside the city. All require daily monitoring and regular maintenance. The city purchased Quail Canyon Water system exclusively for Verde Village units 6 and 7 at a cost of $889,107 with $200,000 more for installation of lines, pumps, and other equipment. When Cottonwood's utility borrows money for infrastructure, the citizens of Cottonwood bear the risk of the new debt and infrastructure.
Question – Does the city have an unreasonable level of debt?  If so, what leads you to this conclusion and what comparisons have you made to support your position?
No. It is difficult to compare other communities to ours. Population alone does not dictate reasonableness. The real issue is the needs of our community and facilities required to meet those needs. Many cities our size and larger do not have all the services we provide and, therefore, have less responsibility, less staff, and in some cases pass on the cost of municipal services through property taxes or special districts. Although not a perfect comparison, Debt per Capita is one means of comparison. I compared 25 cities in Arizona and found that several communities have a larger Debt per Capita than Cottonwood. Considering all of the above and Cottonwood owned assets, I am satisfied the debt level is reasonable. Having said that, the lower we can get our debt level the better off we will be. I would work towards reducing the debt level as quickly as possible.
More like this story
SUBMIT FEEDBACK
Click Below to: