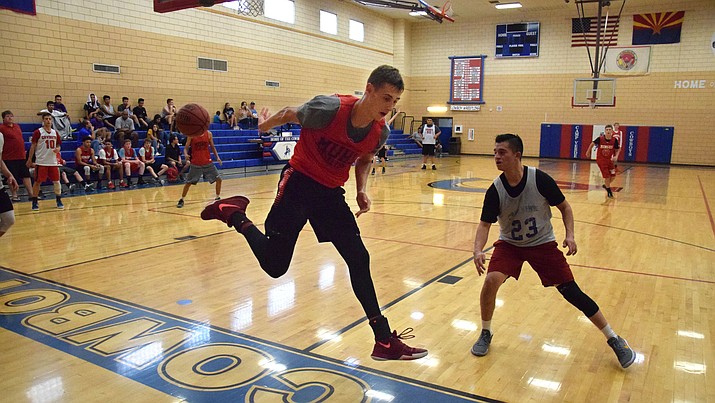 Originally Published: June 30, 2018 2:43 p.m.
Mingus Union boys basketball lacked consistency this summer but had some bright spots and promising young players emerged.
The Marauders closed out summer play at the Cowboy Summer Shootout in Camp Verde.
On Friday the Marauders opened the tournament with a loss to Camp Verde but then rebounded to beat Hopi.
"To be honest we didn't do pretty good the first game, but to be fair, Camp Verde played great, they really came to play, they executed well, shot the ball extremely well and kinda exploited us and our lack of defense. I wasn't happy with our defense that game," Mingus head coach Dave Beery said. "We could have probably gone zone and made the game more competitive but I kinda wanted my guys to learn to play man to man a little better and sometimes you got to take a few lumps to do that."
The tournament games were made up of a two halves with a running clock, except at the end of the periods.
"I thought we played pretty decently, we can certainly work on executing our offense a little bit better but overall we have improved over the summer, but as long as we continue to work on that we should be okay," senior forward Colton Sorensen said.
Beery said the Hopi game was better but that they need to cut down on their turnovers.
"Second game the effort was there, it was a lot better, we worked a lot harder on the glass," Beery said.
The Marauders practiced and played games through out June and on June 18-22 went to the Dixie State camp in St. George, Utah.
Beery said this summer they've had an inconsistent team, not knowing who will be there.
"We went to Dixie State and that was a little more stable because we had the same 11 guys the whole time, we kinda knew what we were doing and we
Photo Gallery
Cowboy Summer Shootout 062918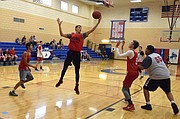 Camp Verde boys basketball hosted the Cowboy Summer Shootout on June 29-30. VVN/James Kelley
saw great competition there," Beery said. "I think we showed more improvement there, but then a step backward maybe a little bit (Friday), we didn't look to sharp, again we had three or four guys out there that hadn't touched a ball in a few weeks so that hurts us when it happens."
Sophomore Ray Kaehler said they've had a good summer, they just need to work more.
"From the beginning of summer until now we didn't really execute that much, our defense wasn't that good but now we have decent footwork, we play pretty good defense, we have a pretty good offense, we've gotten a lot better," Sorensen said.
Some of the players new to varsity have impressed Beery, like Kaehler and junior guard J.D. Caldera.
"A few of our younger guys have really stepped up into roles where they're doing more," Beery said.
He said he wonders about Kaehler's court vision but that he had been pretty consistent and strong and that Caldera had looked varsity ready.
"Both of those guys still make a lot of mistakes, all of our guys do but they've shown some promise that they're improved and they're ready to compete for minutes with some of the older guys," Beery said.
In July some of the players will play AAU ball.
Sorensen said the new players have fit well into the varsity.
The tournament also featured JV action, with the younger Marauders impressing Beery.
"The JV looked great (Friday), so that was fun, because they've struggled a little bit in the summer but they had some kids really play well (Friday)," Beery said. "Elias Capello, who's gonna be a sophomore, had great day (Friday) I mean he probably hit nine or 10 3s in two games, so it's nice to see a kid start to gain some confidence and start to gain some strength and play really well like that, it's good to see."