Editorial: Rep. Stringer badly misses mark on 'apology tour'
Originally Published: June 30, 2018 12:16 p.m.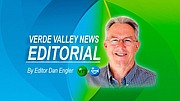 "If you are wrong, admit it quickly and emphatically."
— Dale Carnegie
"Whenever you're wrong, admit it; whenever you're right, shut up."
— Ogden Nash
Prescott Rep. David Stringer went on the road last week to mend some fences.
Stringer had come under fire following comments he made at a June 12 Republican Men's Forum in Prescott. Addressing the issue of immigration, Stringer's comments were considered racist by many, including those in his own party who publicly said Stringer's comments were so insensitive and offensive that he should resign from office.
In response, Stringer met with a group of African-Americans in Phoenix last week in what GOP spokeswoman Ayshia Connors called an "apology tour.''
The problem is, Stringer did more blame-shifting than owning up to his own poor choice in judgment.
The backlash he experienced for his comments to the GOP organization in Prescott, Stringer explained, was the result of a "Democrat hit piece'' that excerpted 51 seconds from the speech he gave in Prescott.
"It distorted my remarks and I think misled and, unfortunately, offended a lot of people,'' he said. "So, if there are people in this room who were offended, I am going to apologize for making statements that allowed someone else to excerpt them, misrepresent them to the community.''
A weak excuse for an apology.
Even Rev. Jarrett Maupin, who organized the gathering with Stringer and members of the African American community, said he could not tell if Stringer was apologizing or not.
"I do apologize for anyone who was offended by my remarks,'' Stringer replied, before adding his comments were "taken out of context.''
This is classic political doublespeak. Rep. Stringer is apologizing to those who were offended by his comments, but not to the degree that he is willing to apologize for his comments. There is a big difference. He is not owning up to anything, and he is quick to shift the blame from himself to a most convenient target: Democrats. That is usually a sure-fire way to rally the GOP troops. In this case, however, even fellow Republicans are condemning Stringer for the speech he gave last month.
Gov. Doug Ducey and Arizona GOP Chairman Jonathan Lines both have said Stringer's best move right now would be to step down from his seat in the Arizona House of Representatives. State GOP spokeswoman Ayshia Connors labeled Stringer's comments as "highly offensive, insensitive and counterproductive."
As for his blame-shifting last week to make amends to Arizona's African American community, Connors said, "I don't know who put him up to this, but it was an awful move.''
If Stringer was not willing to make an honest and sincere apology for what he said, he would have been better served to simply keep his mouth shut and stand by what he said.
His attempt at offering an apology only poured gas on the fire he started.
More like this story
SUBMIT FEEDBACK
Click Below to: