Middle School principal offers to be new superintendent
By
Bill Helm
|
BillHelm42
Originally Published: March 1, 2018 12:58 p.m.
CAMP VERDE – After a nearly three hour work session Tuesday, Camp Verde Unified School District's governing board has not – yet – agreed to have Arizona School Boards Association help the district find its next superintendent of schools.
But the board may have found its next superintendent –and he's already a district employee.
Following Tuesday's presentation by ASBA Leadership Consultant Dr. Karen Gasket, Danny Howe told board members why they should look internally, and why they collectively should choose him to lead the district beyond the school's current fiscal year.
"I'm frustrated with seeing 'looks good on paper,' you feel good about somebody and it comes down to their heart isn't in it for the long term," said Howe, the district's middle school principal for the past eight years following 19 years in CVMS classrooms.
Howe, who also serves as principal for South Verde High School and the district's accommodation school, also cited five superintendents since August 2002 as a reason for looking into the "school's family."
"We can't keep doing what we're doing," Howe said. "I said to [Steve Hicks, the district's business manager, 'How stupid would it be if I said I am willing to step up?'"
At times Howe joked that based on recent district trends – five different superintendents since August 2002 – that he could be 27 years, then "three-and-out."
Howe's one request, should the district decide to name him superintendent then decide he's not the right fit?
"I would want a commitment from the district that 'you're going back to principal' if you don't like the direction we're going."
All in the family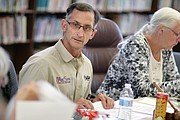 Both Howe and Camp Verde school board president Tim Roth spoke of the middle school's success with the Capturing Kids Hearts program.
"When you build relationships, that's when you see improvement in achievement," Howe said. "When there's a relationship among staff, people have a sense of belonging and they want to give their best effort."
Since August 2002, Camp Verde Unified School District has employed five superintendents: Ron Maughn from Aug. 2002 through June 2006, Dr. Jeff Vanhandel from July 2006 through June 2009, Dan Brown from July 2009 through June 2012, Dr. Amber Marchant-Lee from July 2012 through June 2015, and Dr. Dennis Goodwin, who began his tenure with the district in July 2015.
The constant change, according to Roth, "really doesn't benefit our students."
"Maybe we should slow down [the search with ASBA]," Roth told the board. "Capturing Kids Hearts has to be a thought in the administration, from top to down. Danny has offered to take it on for another year, then to see where it goes.
"Danny's been in this community a long time," Roth continued. "To me, that's an asset. We could hire someone outside the district. But what are our chances? I think the rest of the administration would get behind this idea."
Transitions
On Feb. 13, the Camp Verde school board officially decided to allow District Superintendent Dr. Dennis Goodwin to finish the terms of his contract on home assignment.
That night, the board agreed that it would be prudent to set up an appointment with Arizona School Boards Association.
Though the school board named also named Howe that night as its administrator-in-charge during the transition, it seemed a certainty that the board would look outside the district to find a replacement for Dr. Goodwin, whose contract expires on June 30.
Semantics
Whether the district selects Howe to replace Dr. Goodwin in the interim, the short-term or the long-term, his title may be a matter of semantics. Administrator-in-charge is Howe's current title. He could be named interim superintendent. Or, superintendent, should the appointment become long-term.
"Whatever I'm called, I want to do my best for the district," Howe said. "That's where my heart is."
Either way, Howe said it's not about the title. Howe also said he's not concerned whether he's selected, or for how long it would last.
Most importantly for Howe, he said it's a job he "can do."
Following discussions with both Hicks and with Superintendent Assistant Mary Hudson, Howe decided he should at least be considered on a temporary basis to be the transition from Dr. Goodwin.
"This wasn't planned," Howe said. "It came up at the spur of the moment. But having this opportunity put in front of me, I feel I can bring a positive culture to the district and I'm going to do that. And let the chips fall where they may."
-- Follow Bill Helm on Twitter @BillHelm42
More like this story
SUBMIT FEEDBACK
Click Below to: