Cactuses thrive at Arizona Botanical Gardens

Originally Published: March 3, 2018 12:51 p.m.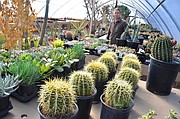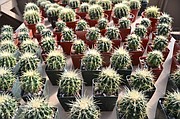 Ever drive by that cactus store on the road going to Jerome and feel a need to stop in?
Well you should. It's a cactus admirer's goldmine.
Inside the two greenhouses and garden at Arizona Botanical Gardens in Clarkdale, there are hundreds of cactuses for any cactus enthusiast to explore.
And you might even learn the difference between a Myrtillocactus and Neobuxbaumia cactus from cactus expert and store manager Jason Lavelle.
The Arizona Botanical Gardens has been selling cactus for more than 20 years, explained Lavelle, Arizona Certified Nursery Professional. They sell native outdoor cactus and cactus for inside the home. It's the only cactus store like it in Northern Arizona, Lavelle said.
It's difficult to tell how many species of cactus Arizona Botanical Gardens has – hundreds for sure.
They have everything from the popular saguaro cactus, to fishhook barrels to tiny two-inch miniatures.
Lavelle said they specialized in "cold and hearty cactus for our area" that can grow in Northern Arizona, but they also have greenhouses full of indoor-only cactus.
"Most cactus won't even tolerate a freeze that's hard on them," he said More than half their inventory are indoor-cactus, he added.
And if you love cactuses, you have to be patient since they grow very slowly, he pointed out. As an example the one-foot tall saguaro cactus will grow about six inches a year, Lavelle said. They don't grow as quickly as an apple or maple tree.
And if you think you have to spend lots of money for a cactus, Lavelle said they even have tiny ones starting at $5.
Cactuses are a visual statement for your landscape, explains Lavelle. He suggests using cactus in an overall landscaping plan including other plants and trees
For landscaping in the Verde Valley, Lavelle likes to recommend the native hedgehog cactus because of its orange flowers and he also likes agave type of plants.
Lavelle said they grow many of their own cactuses, and but do not harvest their own native cactuses. They buy cactuses through a wholesaler, he added.
Arizona Botanical Gardens is the building with the large "Cactus" sign on the left going up to Jerome from Clarkdale right after the first roundabout, just off State Route 89A on Wildhorse Ln. The address is 1011 Wildhorse Ln., in Clarkdale.
For more information, call 928-634-2166.
More like this story
SUBMIT FEEDBACK
Click Below to: