Danny Howe to be Camp Verde schools' 'administrator-in-charge' through 2018-2019 school year
By
Bill Helm
|
BillHelm42
Originally Published: March 3, 2018 2:54 p.m.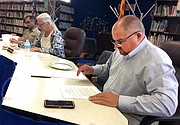 CAMP VERDE – Camp Verde Middle School Principal Danny Howe said Friday that with trust and ethics, one can have harmony.
That harmony, Howe said, played a role in his asking the Camp Verde school board to let him continue as the district's administrator-in-charge beyond the current fiscal year, which ends on June 30.
"I feel great, honored," Howe said about the Camp Verde school board's 4-to-0 vote to let him continue as the district's lead administrator through the 2018-2019 school year.
After the board's decision, Howe thanked each of the board members with a handshake "for having the trust in me."
The Camp Verde school board also voted 4-to-0 to delay a superintendent search with Arizona School Boards Association. By fall 2018, the Camp Verde school board will determine whether it should use ASBA to help the district search for a permanent replacement for Dr. Dennis Goodwin, whose contract as superintendent expires on June 30.
On Feb. 13, Dr. Goodwin was placed on home assignment by the board through the end of his contract.
According to Camp Verde school board member Kitty McDowell, the decision to extend Howe's tenure as administrator-in-charge was based on two factors.
One major factor, McDowell said, was money.
The other reason, she said, was to "try something new by creating an administration where the decision making is shared by the entire educational team."
It was that leadership-by-committee that was attractive to board member Helen Freeman, who said the district has "excellent staff who will share the load with Mr. Howe and make sure things are being done within the district that need doing."
"I think that there is a feeling of teamwork that is surfacing that had been missing before, and it will be exciting to see where it leads," Freeman said. "Mr. Howe has a long record of service in our schools and community and knows who we are as a district and what our needs might be."
With five different superintendents at CVUSD since August 2002, various governing board members said Tuesday that selecting the right superintendent "isn't easy."
"What is supplied in a resume is not always what you get," McDowell said. "Once they do accept the job, they often find that Camp Verde is not what they expected."
"That being said, I believe that Dr. Goodwin was an excellent superintendent and that he had our district headed in the right direction," McDowell also said. "I was sorry to see him leave."
Though Howe's current contract will not be renegotiated, McDowell said that his contract, as well as all district contracts are renegotiated each year.
-- Follow Bill Helm on Twitter @BillHelm42
More like this story
SUBMIT FEEDBACK
Click Below to: