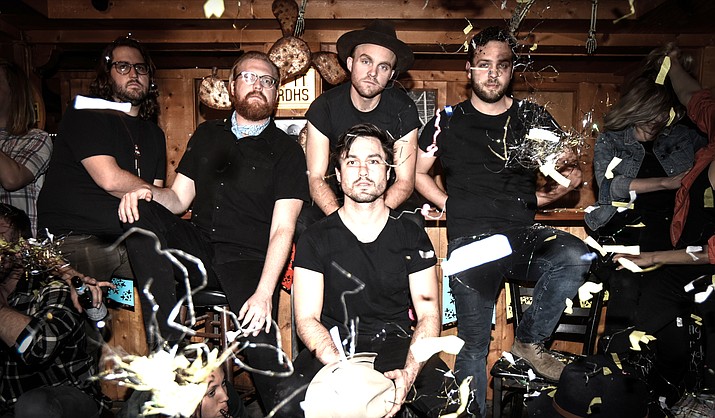 ---
---
Some of Arizona's finest young bands make their way to Main Stage this week.
Thursday, March 8 sees Main Stage owner Rebecca Riffel's Birthday Bash featuring Jared & the Mill.
The Phoenix-based quintet (vocalist/guitarist Jared Kolesar; banjo/mandolin player Michael Carter; guitarist Larry Gast III; bassist Chuck Morriss III; and drummer Josh Morin) recently embarked on a US Tour and will be playing fan favorites from previous releases and previewing songs from their much-anticipated new album, which was recorded in Joshua Tree, Calif., with producer Ethan Allen (Ben Harper, Patty Griffin, Black Rebel Motorcycle Club). The band plans to give fans a sneak preview of new material over the coming months, with the full-length album due out later this year.
Jared & The Mill has spent the past few years touring endlessly, playing everywhere from Macon, Georgia to Djibouti, Africa, while releasing 3 EPs and an album. Along the way, they've built a diehard following with a sound the New Times praised by writing:  "It's not rock, it's not country, it's not folk, but it's not quite pop. So where do they fit? They've opened for The War on Drugs, the Zac Brown Band, Allen Stone and The Killers, to name a few. Their undefinable nature is also their strongest weapon."
How does the band describe their sound?
"Our music has been called a lot of things (lately we've been digging 'western indie rock') but whatever you call it, we love sharing it with you and hope our songs make you feel like you're not alone. We hope you come to a show, have a drink and dance with your friends."
The show starts at 8 p.m. and it $5 at the door.
On Friday, March 9 local favorite DJ Johnny K brings another installment of his years-running 2nd Fridays dance party to Main Stage. The evening is free and begins at 9 p.m.
Saturday, March 10 has local promoters Syntheticide Entertainment bringing "March Madness" concert. A showcase of Hard Rock/Alternative Metal bands from across Arizona. The concert boasts of featuring heavy hitters and young up and coming bands that are making a name for themselves. The show is $10 and begins at 7:30 p.m.
Main Stage has a series of weekly events the remaining nights of the week as well. Mondays feature weekly Karaoke with host Red Bear at 8 p.m. Tuesdays are Pub Trivia with hosts Brett and Candy at 7p.m., followed by more Karaoke at 9:30 p.m. Wednesdays are "This Ain't Your Grandma's Bingo" with host Penny Smith, cash prizes, and drink specials. Bingo begins at 7 p.m. Thursdays are "Thirsty Thursdays" Old School Game Night. The venue is closed on Sundays.
Main Stage is located at 1 S. Main St. in Cottonwood.