Editorial: Martin's handling of Gardner investigation punctuated with fairness, due process
Originally Published: March 8, 2018 11:39 a.m.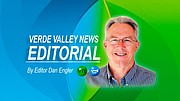 Camp Verde Town Manager Russ Martin has taken a lot of heat for the months-long investigation concerning Town Marshal Nancy Gardner.
To which there is only one response: due process.
Martin did the right thing when first confronted with the allegations against Gardner. He asked the Arizona Department of Public Safety to step in to assess right from wrong, and rumor vs. fact.
It took longer than Martin expected, and for that, he was subject to considerable criticism. That's understandable, Gardner was being paid for not working. That never rubs right with folks.
The alternative, of course, was for Martin himself to immediately act on the allegations he was presented. Such action could result in a litigious nightmare for the town if Gardner could prove the accusations were baseless and without foundation.
Martin likewise is now on the receiving end of criticism for making Gardner's termination date effective March 12. Again, the response to this is due process. Martin is giving Gardner time – as a town employee – to take advantage of the appeals process available to her under Camp Verde's personnel policies. Again, he is doing it by the book and Gardner has made it clear that she intends to appeal Martin's decision to terminate her employment.
Finally, it's often been said that cops protect cops when the Department of Public Safety is called in to investigate allegations of impropriety against a police officer. Yes, there are bad apples in the bunch with police just as there are with any profession. But for the most part, outside police agency investigations into police misconduct are found to be baseless because the officer under scrutiny is a professional and made the right call given the circumstances with which he or she was confronted.
In the case against Gardner, however, the DPS did not rule in favor of the officer, so there goes the cynic's theory about cops always protecting cops.
From beginning to end – and we've yet to see the end of this case involving Nancy Gardner – the decisions made by the town manager were not the most popular course of action in the court of public opinion.
But in terms of measuring up against legal scrutiny, and basic fairness, it's hard to be critical of the decisions made by Martin.
He handled it professionally. He acted on the results of the investigation professionally.
Everything he has done has been punctuated with fairness and due process.
More like this story
SUBMIT FEEDBACK
Click Below to: