Verde Valley teen Hines fights for national title
Originally Published: March 8, 2018 1:01 p.m.
Camp Verdean and Mingus Union student Adam Hines will battle for a kickboxing national championship this weekend.
Hines will contest the Certified IKF Junior Boys Featherweight United States Title 122.1-127 lbs on Friday night at Crown Reef Conference Center in Myrtle Beach, S.C.
Hines said training for the event has gone well.
He's coming off a successful trip to Las Cruces, N.M. on Feb. 24.
"It went very well," trainer Richard Williams said. "We had a game plan, because now Adam is growing, so as you can see he's got longer legs and longer arms, so I keep putting in his head that his asset is his reach, so I told him to 'just use your jab, jab, boom, boom, boom, stick and move, stick and move' and we stuck with the game plan. He listened to his coach and we pulled out the win."
Hines is a freshman at Mingus Union and a member of the Yavapai-Apache Nation.
The other fighters at the event are Tony Rossi of Myrtle Beach, S.C. and Angel Carranza, Puerto Rico. Rossi is 8-5 and Carranza 10-0 with seven IKF World Classic Titles.
As of press time a fourth fighter could be added.
Hines has already won four belts. He's faced fighters from places like Puerto Rico, Philadelphia, Phoenix
"He's fighting the best kids in the world," said Williams, who has also been a fighter and promoter as well.
Hines has been in the sport for five years, starting with Clifford Larson at Larson's Boxing & Fitness in Camp Verde.
He said working with Williams has been good.
"He trains me hard," Hines said. "He always makes me run and push myself and teaches me more techniques."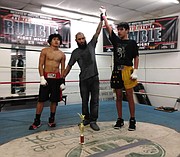 Williams said Hines reminds me of Larson, a former IKF World Champion.
"They're tough, they get in there, they train, they never say no and they just keep working, working hard," Williams said.
Hines went to Camp Verde Middle School and said he chose Mingus Union because he "just wanted to try a new school."
Williams said he thought Hines has made the transition to high school, in different town, well.
In the fall he was on the Marauders' cross country team.
Depending on the results in South Carolina and a potential waiver, Hines may get to fight in San Diego soon as well.
He said going across the country to fight is really cool.
"I think it's cool," Williams said. "I think a lot rides on his shoulders because we're not just representing Camp Verde or Arizona, he's representing his nation too, he's from the Yavapai-Apache Nation."
Hines said the travel hasn't made school more difficult.
Depending on the event, some or all of the travel is covered by the promoters, plus Williams said they have fundraisers and Hine's mom Dawn Beauty helps pay for the trips.
"She works hard and doesn't favor any of her kids," Williams said. "She's there to support Adam and that's good that we got family support and everything else. So hopefully that will build in him to keep going for his family, for his mom, for his people and his tribe."
Williams, who founded founder of Golden Cobra Gym, said Hines doesn't run out of energy. Three of his last fights have gone to overtime.
"Adam fought six round wars and I think he's ready again," Williams said.
The Junior Bantam Amateur Muay Thai title in South Carolina is part of the 2nd IKF Spring Eastern Muay Thai/Kickboxing Classic Super Show.
"Being 15 years old and being considered one of the best fighters in the country and being able to maybe travel and fight coast to coast, man, I think it's exciting," Williams said. "I'm blessed to do what I what I do and watch these kids produce and be good champions. I think Adam's still got a long ways to go but he's gonna do very well."
Williams said Hines has a lot of potential.
"I think if he keeps with it, he has a chance like Clifford, maybe becoming the second Native American world kick boxing champ," Williams said. "People's lives change all the time, I've been doing this for 35 years, so it's hard to stay focused. So if he can stay focused and keep your life pure and everything, then yeah he does have a pretty good future, as long as he keeps it in his heart."
More like this story
SUBMIT FEEDBACK
Click Below to: