Camp Verde softball routs Scottsdale Christian
Cowboys win last home game before road swing and Gracie Lee Haught Classic in Payson
Originally Published: March 10, 2018 1:28 p.m.
Camp Verde High softball rolled to a dominant win in their final home game before the Gracie Lee Haught Classic.
The Cowboys beat Scottsdale Christian 22-0 in four innings on Friday.
"We're preparing for the Payson tournament, so this week and leading into next week, we're going to work really hard on our hitting," CV head coach Henry Smith said on Friday after the game. "That's more or less what we did (Friday). We hit really well all the way through the line up. We were able to make some subs early and we're working with some of our younger players and they came in and just continued our momentum. So we're trying to build some momentum going into the Payson tournament."
The Cowboys scored seven runs in the first inning, 11 in the second and four in the third.
Smith praised the Cowboys' ability to stay disciplined despite the rout.
"It's a team effort definitely, so we all focused this week, we had a really rough week of practice and we all kinda broke each other down to the very last bits and just called it a day," said junior Miranda Sharp about how they were able to stay disciplined at the plate.
Sharp led the Cowboys in RBIs against the Eagles, driving in five runs. She was 4-for-4, hit a double and scored two runs.
"It felt like a small victory to me because I was finally able to help my team compete," Sharp said. "It was a pretty exciting feeling honestly."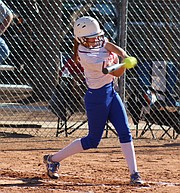 Henry Smith said Sharp had struggled at the plate her first two years but her defense got her into the line up previously.
"But this year we made a commitment that we were going to try and fix her hitting and (Friday) she went 4-for-4 and just hit some nice solid line drives every single time and so she spent all week really working on her hand control, her bat control and (Friday) it showed in her game performance," Henry Smith said.
Senior catcher Jade Oium and junior infielder/pitcher Tyra Smith has three RBIs. Tyra Smith and Sharp led the team in hits with four and Oium had three.
Every Cowboy that had an official at bat got a hit and they racked up 21 total.
"We struggled last year in the state tournament with our offense so we came in last year knowing that was something that we need to focus on," Henry Smith said. "We focused in practice on staying disciplined, understanding situations and so every game we played throughout the season has been very disciplined, very controlled hitting and that's what we're working on that's what we're doing."
Sophomore pitcher Jacy Finley threw a two-hitter, striking out seven and waking zero batters.
Finley said this year she is more accurate, has more speed on her pitches and hasn't been as sore after games.
"I'm feeling better than I was playing last year," Finley said.
Although the Cowboys are young, with three seniors, two juniors, three sophomores and six freshmen, Henry Smith said they've used pretty much the same line up the whole season so far.
Last year at the Wickenburg tournament they were still figuring out positions and batting order.
"This season we're off to a pretty good start," Sharp said. "In the Wickenburg tournament we did a lot better than we normally do. We normally go in there and lose every game because it's the start of the season, we're still figuring out positions and everything, but we did a lot better."
Up next for the Cowboys is a trip to Phoenix to face Bourgade Catholic, who knocked them out of the state tournament last year in the semifinals.
Then they go to the Gracie Lee Haught Classic in Payson where they will face Joseph City, Show Low and Apache Junction. Their next home game is Mar. 27 at 4 p.m. when they host Glendale Prep.
"We started pretty good, we have a younger than we did last year," Finley said. "We've been working really hard at practices, like they've been a lot hard and as we progress through the season they're going to get harder everyday."
More like this story
SUBMIT FEEDBACK
Click Below to: