New faces aplenty for Camp Verde golf
Originally Published: March 10, 2018 1:21 p.m.
This season is a new start for Camp Verde High golf.
Not only do the Cowboys feature a new head coach, they're mostly a new squad.
"It's been fun," said head coach Jerry Rhoades on Wednesday. "We've had two matches, we played here once last week and then we played in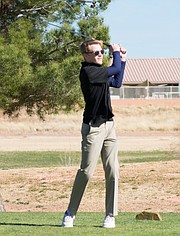 Oak Creek. Oakcreek's a really nice golf course."
Rhoades is also the head football coach.
"I'm just filling in til somebody that knows how to coach or knows anything about golf will take it," Rhoades said.
Camp Verde golfer Damon Conway said Rhoades is very thorough.
"I think he explains a lot better and his knowledge of the game is a lot more specific than the other coach we had last year," CV golfer Royal Doungea said.
The Cowboys opened the season on Mar. 1 when they hosted Sedona Red Rock and Northland Prep at Verde Santa Fe. Conway led the way for the Cowboys with a ninth place finish, shooting +22.
Then on Mar. 6 they faced Sedona Red Rock and Northland Prep again, along with Chino Valley, at Oakcreek Country Club. Conway was the top Cowboy again, taking eighth with a +25.
"They were very nerve racking but it was nice know you had a good coaching staff to help you through it," Doungea said.
The Cowboys lost their top players from last year and have three who have "basically never played golf before."
"It's kinda hit and miss," Rhoades said. "For example (Tuesday), this is what I mean, (Tuesday) they hit the ball so well on the range and then we turn around and played probably worse than we've ever played and I don't know what causes that and so these guys are so raw, so brand new at golf that they just struggle making contact with the ball."
More like this story
SUBMIT FEEDBACK
Click Below to: