VVFD, crews respond to house fire in Bridgeport (with video)
Staff Reports
Originally Published: March 13, 2018 9:01 a.m.
Verde Valley Fire District responded to a fire outside a home on Bridle Path Road in Bridgeport Monday morning, according to officials.
The cause of the fire is still being investigated but officials believe it was caused by a generator operating on the porch.
"The occupant had problems with it and when he got it going, he went in the house. That's when something went wrong," said Verde Valley Fire Chief Nazih Hazime.

All occupants and pets were reported to be out of the home and there were no injuries, according to a VVFD media release. Half of the residence was involved when crews arrived, said Hazime.
Crews maintained a defensive position because of the heavy fire load, according to the media release.
"Other challenges were a primary powerline down and arcing hindering fire operations until APS was able to secure the power," the release stated.
VVFD ended up using a Yavapai County bulldozer to assist in the overhaul due to the heavy fire load, according to the release. Crews were also assisted by Cottonwood Fire and Medical Department, Sedona Fire District, Copper Canyon Fire and Medical Authority, Verde Valley Ambulance Company, YSCO, Unisource, APS, Cottonwood Water Department, ACT, American Red Cross.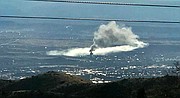 "This fire was supported by five fire engines and six water tenders," the release stated. "The crews were on scene for approximately 11 hours and conducted a fire watch throughout the night."
While on the scene, one firefighter experienced heat exhaustion and was transported to Verde Valley Medical Center where he was treated and released, Hazime said.
"We don't take those things lightly," he said. "They pumped some fluids into him and he's okay now."
Hazime said it's important to always properly maintain power generators and ensure that they are in an open area so they can stay ventilated.

SUBMIT FEEDBACK
Click Below to:
More like this story