Young, McKeever resign posts as Mingus football, baseball coaches
Originally Published: March 17, 2018 2:25 p.m.
Mingus Union High School lost two of its most prominent coaches in less than a week: Bob Young and Tim McKeever Jr.
Head football coach, softball assistant and weights teacher Young stepped down effective at the end of the school year.
Head baseball coach McKeever resigned March 8. Young resigned March 12. March 15, the Mingus Union High School District Governing Board approved the departures.
Young said he there were different reasons for the resignation.
"I could've retired three years ago, so every year I evaluate the situation and over the last year there's been some things happen that I felt was mismanaged."
McKeever, who also was an assistant football coach, took over as head baseball coach after Young retired from that post after last season. McKeever was 3-0 as head baseball coach.
In his resignation letter, McKeever cited the time and financial commitments being more than he expected.
"He resigned," Mingus Athletic Director Yancey DeVore said. "He turned in a letter of resignation on, I believe, last Thursday for time and personal commitments that he had and financial, I believe, that was stated."
Mingus Superintendent Penny Hargrove said, "Tim (McKeever) visited with the administration last week and asked to resign. We granted his request, evaluated our options, and hired Erick to replace Tim."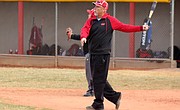 McKeever said outside of his letter of resignation, he has no comment.
McKeever also served as head wrestling coach at Mingus Union.
Young was at Mingus Union from 1986 to 1997 and then after a couple years at Mesa Westwood, returned to MUHS in 2000 and remained there except for spending a month at Prescott.
Young coached baseball 27 years, winning seven region or section coach of the year honors. In football, his team won the 1997 state championship and was runner up in 2005, 2007 and 2011.
Young also coached girls basketball, boys basketball, softball and track and field at Mingus Union.
2011 Mingus Union alumnus Erick Quesada, who teaches science at MUHS and lettered in football, basketball and baseball, took over as head baseball coach.
Mingus Union baseball and football player Skylar Waynick said Young made a big impact at Mingus Union.
"He was a great coach. He was one of my most favorite coaches and he worked us real hard and made us very good ball players and I thank him for that," Waynick said. "It's tough, but we'll get through it. We got coach Quesada now and he's another good, young, experienced coach. So we're just going to get through it. It's a tough loss but you gotta do what you gotta do."
Quesada was out of town at the end of the week last week but has impressed early on.
"I think Erick will be a great fit for the program," DeVore said. "He just came right in and he set a tone for the program and that's how we're going to move forward from there but he's done an excellent job since he's taken over."
Quesada went to Chandler-Gilbert Community College and Western Oregon University, where he played baseball. On the diamond, he was all-state, on the football field he was honorable mention all-state and in basketball he was all-league.
"As a player, he was a hard-nosed player. He worked hard, good attitude, so that was the kind of kid he was," Young said.
Young said he didn't know what he was going to do next, except continue coaching his grandson's Little League team.
"At this time I don't know," Young said. "We'll see what happens if something presents itself, I'm definitely open to continue coaching."
The head football coach job has been posted. The Marauders are also looking for new boys soccer and cross country coaches too.
"We want to get that done ASAP," DeVore said. "There's some teaching positions, that has been posted, both the teaching positions and the football position, so we're looking to fill that as soon as possible."
More like this story
SUBMIT FEEDBACK
Click Below to: