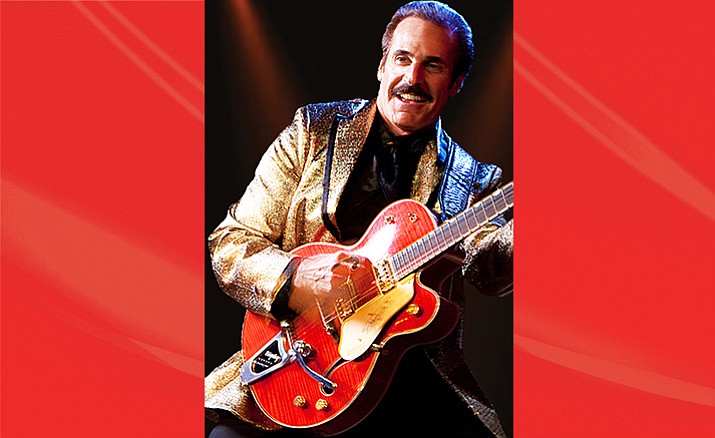 ---
---
If You Go ...
When: March 23, 2018, 7-8:30pm
What: 50's and 60's Rock n Roll Show "Graffiti Gold"
When: March 24th, 2018 7-10pm
What: Motown with Diversity
Where: Sound Bites Grill Show Room 101 N Hwy 89a Sedona AZ, 86336 at Hyatt Pinon Pointe Shops Uptown Sedona. Cross Street Hwy 179
More Info: 928-282-2713 • www.soundbitesgrill.com
Head over to Sound Bites Grill for the best rock 'n roll show in Sedona—"Graffiti Gold" this Friday night
Tom Tayback is back in town with his band, the Daddy-O's, playing all your favorite hits from the 1950's and 60's, the classic era of rock 'n roll. This year Tom is introducing some new songs and material to the show for some great surprises. The band is warming up and will be ready to "Rock around the Clock" from 7-9p.m. March 23rd.
Tom Tayback and the Daddy-O's musical arrangements will rekindle your memories of classic rock 'n roll. Whether the Daddy O's are playing primo surf music (like "Wipeout") or squeezing every classic guitar riff into "Johnnie B. Good," they are one great band!
Tickets for the show start at $20 and the entire dinner menu is available to order. Seating is social so you will meet other people.
On Saturday March 24th another local band will be performing that brings back memories of Motown. "Diversity" as they call themselves is led by a husband and wife team from Detroit, Tim & Renee Claybon. They are joined by the band members, Les Paul Roque on piano, Jamal Baker on drums, and a bass player. The band will perform from7-10pm in the Sound Bites Grill Show Room.
The five pieces have created a vibe of hip, pop, Motown, R and B, Blues, Country, Rock & dance like no other group of musicians and singers. Tim and Renee hit the ground running they both sing lead and backing vocals so you get a rich sound that enhances their diverse style and song selection.
This will be a night for dancing. So make your dinner reservation so you can secure the table for the evening. . Renee and Tim have relocated to Sedona from the Detroit area and have developed a huge following so the room fills up quickly. There is a $10 Ticket charge per person to sit in the Show room on Sat March 24th for Diversity.
Sound Bites Grill is located at the Hyatt Pinon Pointe Shops in uptown Sedona. For more information, reservations and tickets call 928-282-2713 or visit SoundBitesGrill.com.