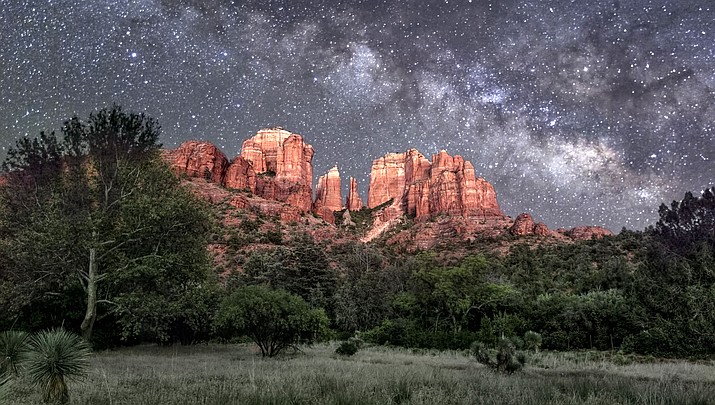 ---
---
Sedona Arts Center is proudly featuring two spectacular artist events in Uptown Sedona.
In the Fine Art Gallery, SAC is showcasing the creative bronze sculptures and jewelry by Deanne McKeown along with fine knives and canes designed by Byron McKeown. Photographer Elaine Belvin graces their walls with her wonderful scenes of Arizona and beyond. Oil painters Sandra Meissner and Gary Jenkins are adding color with their paintings of the Salt River Horses, koi ponds and graceful birds in natural surroundings.
In the Historic Art Barn Theatre Gallery is the 38th Annual Juried Members Show featuring an impressive variety of artwork by member artists.
Deanne McKeown
Deanne was born in Missouri and lived in early childhood in the Pinal Mountains of central Arizona. She has explored a variety of media since graduating from the Kansas City Art Institute - painting and printmaking, fiber, leaded glass, graphic design...and most recently, jewelry design and bronze sculpture. For many years she worked in the field of medical illustration, both as director of the Design and Illustration department at the University of Kansas Medical School and as a free-lance illustrator of medical books.
"None of us perceive the world in exactly the same way. Our oneness lies in a yearning to touch and to understand. My work is an endeavor to share my thoughts and vision through form and color and relationships, hoping to charge my images with meaning which will reach across the spaces between us. However, in the long run, it's all about making art - great if there's communication, but if not, I'd still do it anyway. In looking back over a lifetime of working and exploring ideas, I realize that I have never created art, art has been, and is now, creating me."
Byron McKeown
Byron was born in Kansas City, Missouri and in 1956 enrolled in the Kansas City Art Institute's BFA program. Here he was introduced to the magical world of visual arts and where he met Deanne, the girl who was to become my friend, my wife and my life partner. At the Kansas City Art Institute he wasn't taught to do "ART", instead, was encouraged to ask questions . . . about everything. He learned the difference between just looking and actually seeing. The importance of identifying a problem before trying to solve it and experimented with a number of visual languages.
"I believe that I've learned more from my many failures than my few successes. Sixty years have passed since Deanne and I began our journey of exploration together. It has been, and continues to be, a wonderful life."
Sandra Meissner
Sandra was born in St. Paul Minnesota. During the course of her education she learned the art of painting which she approached with gusto. She painted about 15 works for a one woman show where all the painting sold. Instead of continuing in art education she entered nurses training and did not paint again for 40 years.
After graduating from nurses training she worked as a nurse for a number of years until developing a passion for horses. She studied Dressage (classical riding) with two European Olympic coaches and went on to build a horse stable with an indoor hall where she successfully bought, sold and trained horses and riders. She has since retired from the horse world.
A great day now is to paint, working from photographs and to catch the light, shadow, color and contrast in the simple beauty of the subject.  Sandra's current body of work consists of painting flowers and horses. She prefers simple subjects that make a statement of their own individuality and creates an emotion such as serenity or drama.
"Painting is an outward expression of the inward excitement and fascination I see in color, line, shapes, shadows and light.  I enjoy investigating the intricate design of things such as the warm or cool shadows of color on the edge of a flower petal or the reflection of light on the delicate eyelash of a horse. Contrasts in dark shadow versus bright light or soft curving lines in juxtaposition to hard straight lines keep me searching nature for the never ending supply of contrasts found in nature's beauty that I enjoy trying to capture on canvas."
Elaine Belvin
Elaine Belvin's interest in photography was sparked by the beautiful landscapes she and her husband saw while hiking in the American Southwest. After a long career in Information Technology, photography is now her focus and hiking gives her access to remarkable sites. 
Elaine brings a combination of artistic and technological skills to her images.  She uses the camera as a tool to create works of art that capture an expression, a mood, a natural geometry, an exceptional quality of light, or a striking color palette.  Computer technology helps her to transform what the camera captured into what she saw in her mind's eye. It is this combination of artistic and computer skills that shapes the final product.  Through photography, she has discovered a way of expressing and representing the things that touch her and hopefully, touch others. 
Elaine's portfolio includes nature, wildlife and vintage images from the American Southwest, Africa and other travel destinations. Her photographic work has consistently been recognized for its excellence.
Gary Jenkins
Gary was born in Brooklyn, New York and raised in St. Petersburg Florida. Upon graduation from the Ringling School of Art in Sarasota Florida, he moved to Southern California where he started his full-time art career working as a key line artist for a large greeting card company. This was followed by connecting with Aaron Brothers Art Supply. In his spare time Gary began painting and eventually developed his trademark style of oil painting, focusing primarily on landscapes and florals. As his career blossomed Gary was approached to participate in a television production which began a long and successful TV art career in addition to teaching, traveling and producing several books and DVD's.
Gary has been painting for over 50 years and been a full-time professional artist/teacher for over 40 years. He is well known as a floral artist but he also enjoys painting exotic birds and fish along with a few landscapes.
The Sedona Arts Center is located at 15 Art Barn Road in Sedona.
Call 928-282-3809, our Fine Art Gallery at 928-282-3865, or visit SedonaArtsCenter.org.