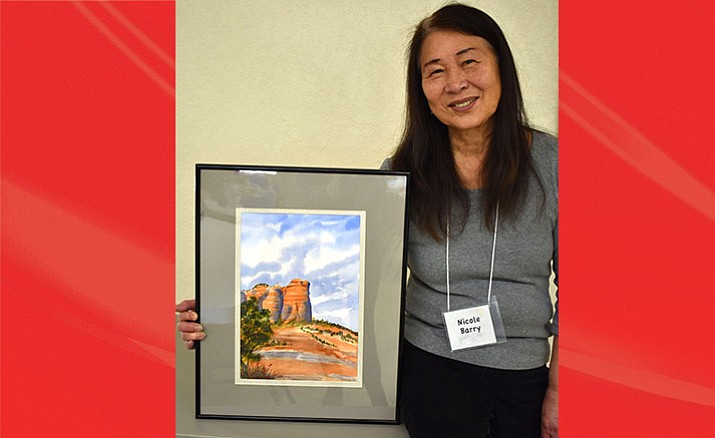 ---
---
The EL Valle Artists Association is pleased to vote Nicole Barry as Artist of the Month for March-April 2018.
Nicole has been creating art for five years.  She began sketching with Carol Hildebrand in graphite and color pencils, then moved to watercolor with teacher Joyce Killebrew     As she grows in her art, she never gets bored.  Classes, (both live and on the internet), art books and videos all help her to keep learning.  Nature has inspired her from the time she was a young girl.  She loved the vivid landscapes of her home in Vietnam.  While she loves landscapes, she also loves all that is in it – birds, flowers, etc.
Even though Nicole always loved art, she did not always have the time to pursue it as she does now.  The Vietnam War interrupted her life, and eventually she had to escape Saigon with her three small children, along with other members of her family.  She became an American citizen in 1980.  Now as a retiree, she finds she loves the time spent following her passion.  "My life is a river, sometimes flowing smoothly, sometimes blocked by obstacles, but always moving forward", says Nicole.   If she could pass on encouragement to others waiting to fulfill their urge to do art she would say "Do the best you can and be generous to others.  Art makes people young.  Never give up!"
Her winning painting of the Sedona landscape is titled "Coffee Anyone?" , which is on display at the Cottonwood, Library. 
To learn more about the EL Valle Artists Association, please visit elvalleartists.org or call 928-634-0076 for more information.  All artists and art lovers are welcome to join us.