Smoking in bed causes house fire in Camp Verde
Staff Reports
Originally Published: March 21, 2018 10:52 a.m.
CAMP VERDE -- A Camp Verde family has been referred to the Red Cross after being displaced from their home following a residential fire on South Fifth Street Wednesday morning.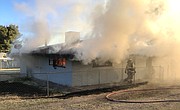 The Copper Canyon Fire and Medical Authority was dispatched at 6:45 a.m. Wednesday to 492 South 5th St. for a structure fire. Upon arrival, crews encountered a room and content fire in a rear bedroom of the home, according to a news release from Copper Canyon Fire Chief Terry Keller.
The home was occupied at the time, Keller explained, but the occupants were able to escape.

"Unfortunately one of the tenants experienced minor hand burns that were treated at the scene by EMS personnel, the chief said.
Copper Canyon was assisted in the suppression efforts by an engine company from Verde Valley Fire District. A support truck from Cottonwood Fire Department and a rehab unit from Verde Valley Ambulance also provided support to the incident.

There were no injuries to any firefighters, Keller said.
The structure received significant damage, displacing the occupants, who were referred to the Red Cross for some initial support.

The fire appeared to have originated in the bedroom, and was attributed to the use of smoking materials in bed, said Keller.
"CCFMA wants to remind everyone that inattention in the use of smoking materials results in scores of fatalities and casualties nationally, and smokers should exercise every precaution to prevent becoming one of these statistics," the fire chief said.

SUBMIT FEEDBACK
Click Below to:
More like this story