Cottonwood still at crossroads on city hall
Members weigh options for new location

Originally Published: March 22, 2018 3:09 p.m.
Cottonwood — For decades, the Cottonwood City Council Chambers building has been nested within the historical heart of Old Town.
Now, council is looking to move from their old home to possibly free up retail space for business as well as consolidate most of their departments to one building.
Earlier this month, Cottonwood City Council directed staff to research options for a new city hall location.
Council is considering the following concepts:
• Construct a new building behind the current city hall in the activity park.
• Construct a new building at Sixth Street and Hwy 89A.
• Construct a new building on the Nackard property in Old Town.
• Purchase Riverfront Commons properties for new city hall.
• Lease space in Safeway Shopping Center
One of the main ideas on the table is the property at Riverfront Commons.
The building is currently owned by Northern Arizona Healthcare. NAH bought the property to host some of its own services five years ago, but the building has remained empty.
NAH leaders are now trying to work out a reasonable price to sell the property as well as finance tenant improvements to the building, according to a city staff report.
To pay down some of the costs of the building, the city is in the process of selling some of its own unused parcels.
The cost estimate of purchasing the roughly 30,000-square-foot building is $2 million, according to council documents.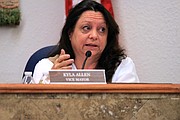 According to council documents, more than 30,000 square feet is needed for a city hall location encompassing most of the city departments
But Council Member Deb Althouse said that she has personally done several computerized drawings encompassing all the needed departments and doesn't think the city needs that much space.
"I am still really struggling with the 30,000 square feet," she said. "We are talking 40 employees in a city hall … I only came up with 11,000 square feet."
Althouse added that this figure does not include council chambers but still did not see a need for such a big space.
"We're not Chandler … we're not Phoenix, we're Cottonwood," she said. "I really struggle with 40 people in 30,000 square feet."
Althouse also said leasing a space in the Safeway Shopping Center could be a viable option.
"I'm not advocating Safeway, I'm just saying we need to look at all of our options," she said.
Althouse's other concern is city debt. During the March 6th council meeting, Deputy City Manager Rudy Rodriguez told council that if the city sells all its properties and purchases the new building, he estimates $1.5 million to $2.5 million would be added to the city debt.
Building a property along Sixth Street could come out at a zero debt for the city, Althouse said.
"Build something that we can fit in now that can be expanded in the future," she said. "We wouldn't be putting future taxpayers in a huge debt, we're being fiscally responsible."
Some council members continued to argue in favor of the Riverfront property. Council Member Karen Pfeifer said in the past, the city has outgrown buildings and that Riverfront would allow a chance for growth.
"I just think it's a wonderful idea," she said. "We've looked at it for a long time and I'm tired of killing horses. We just beat them to death up here. We just need to make a decision and go with it."
Vice Mayor Kyla Allen said an important factor to consider is finding a space that serves as a representation of the city and citizens.
"We need something that is a jewel," she said. "We get doctors and physicians and businessmen who come to this town and I don't want them coming to a city hall that's in a shopping center."
-- Follow Kelcie Grega on Twitter @KelcieGrega
More like this story
SUBMIT FEEDBACK
Click Below to: