Mingus alum Quesada returns to lead baseball program
2011 MUHS graduate also teaches science, played college baseball
Originally Published: March 24, 2018 2:42 p.m.
A familiar face has returned to lead Mingus Union baseball.
Former Marauder three sport star Erick Quesada became Mingus Union's latest head baseball coach on Mar. 9.
"It's been great," Quesada said. "The kids have bought in, it's been a great experience. It's kinda tough coming in as the head coach midway through the season but it's a challenge that I'm willing to accept and ready to take on head on."
Quesada, who graduated from Mingus Union on 2011, began teaching science at the high school this school year.
"He's a good coach," said Mingus senior Jordan Huey. "He actually pushes us around, gets us working, play hard for him, so I think it's good for the team and for what's coming for Mingus."
Quesada played college baseball at Chandler-Gilbert and then Western Oregon.
Mingus Union junior Tyree Kim said Quesada is intense and about getting them ready for college.
"It's a good intensity though," Kim said. "I've never really had a coach that's as focused on us, rather than just the team."
In high school, Quesada was first team all-state in baseball, honorable mention all-state in football and second team all-state in basketball. In baseball he was an infielder and outfielder, in football a cornerback and a point guard on the hard wood.
He majored in psychology and minored in sports leadership.
Mingus Union sophomore Chris Mathe said the Marauders have responded well to their new skipper.
"He's a lot tougher than any coach I think I've ever had but I think it's good for the team, work us a little harder, get some more conditioning in, make us play harder, I like it," Mathe said.
Quesada is the Marauder varsity baseball team's third head coach in less than a year after Bob Young retired from coaching baseball last summer and his replacement Tim McKeever resigned early this season.
"The players are 100 percent bought in as far as I can tell," Quesada said. "I laid it out on the table, the expectations that I have. My philosophy with them is I want great baseball players but ultimately I want great people. I want people that are going to be sustainable in life as soon as they walk across that stage. In my case, baseball will end and then you have to have a job, you have to support a family some day and you have to continue to do that, but you're gonna do that to the best of your ability and that's what I want."
The Cottonwood native who was nicknamed cheese/queso said he's happy to be back in town teaching and coaching and getting the chance to invest what he's learned in the kids.
"It's come full circle, here I was just a couple years ago and now looking back on it, it's been a great experience and I'm very thankful for the opportunity to try and get this boat going in the right direction – which we have but I want to take it to the next level," Quesada said. "Mingus has a great tradition and a great program and I'm not trying to do anything but just build on what the legacy has been here."
The players said they like that he's young and recently went to their school.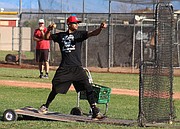 "I think it's pretty cool, giving back to his town that he came from," Huey said.
Quesada thinks that his youth helps the players buy in.
"I told them from the get go 'I get it, I'm young but that doesn't mean that you're going to treat me as, you know, pretty much a buddy, I'm still your coach and everything but I told them guys as an alumni and as someone that has played baseball here and gone further, I want that to be them," Quesada said. "I want them to move on and be better as baseball players ultimately but it all comes to do if they want to they will and I believe that we are going in that direction."
Quesada's first games in charge was the doubleheader against Mohave on Mar. 13 when the Marauders won 19-1 and 9-2.
"It was a great experience," Quesada said. "I woke up very excited, like it was my first day ever playing baseball, it was a whole new feeling being on the other side, having kids going for you instead of me going for the other kids, so it's a great experience, I'm very thankful for the opportunity."
Marauders rebound
After a tough loss to Phoenix Greenway, the Marauders bounced back to rout Glendale Cactus on Tuesday.
Quesada was out of town for the Greenway game and improved to 3-0 as the Marauders' head coach with the win.
"The Cactus game was great," Quesada said. "That really just goes to show, we let a couple games slip away like with Saguaro and Greenway but the Cactus game we really, really came out with a chip on our shoulder, saying we could play better than that and can't really beat ourselves."
After finding themselves behind 1-0 after the top of the first inning, Mingus Union (6-2, 2-0 Grand Canyon) responded with five in the home half of the first, one in the second, eight in the third and two in the fourth to get the five inning mercy rule victory.
"I think it was good," Huey said. "I mean we beat them pretty bad, they weren't the best team but we played pretty solid."
Huey gave up one run, one walk and five hits but struck out eight in the complete game win.
Senior Skylar Waynick drove in three runs, Kim two and junior Justin Tanner two. Tanner, Waynick and Mathe each doubles and Mathe had a triple too.
"It went pretty good, we just stuck together, kept hitting the ball pretty hard and just came around and we got the win," Mathe said.
Kim said they had a few errors but otherwise the game went well for the Marauders.
They returned to action at 3:45 p.m. on Tuesday when they host Bradshaw Mountain and their schedule becomes mostly about region play.
"I think it was good to get a win, going into the region this upcoming week," Huey said.
More like this story
SUBMIT FEEDBACK
Click Below to: