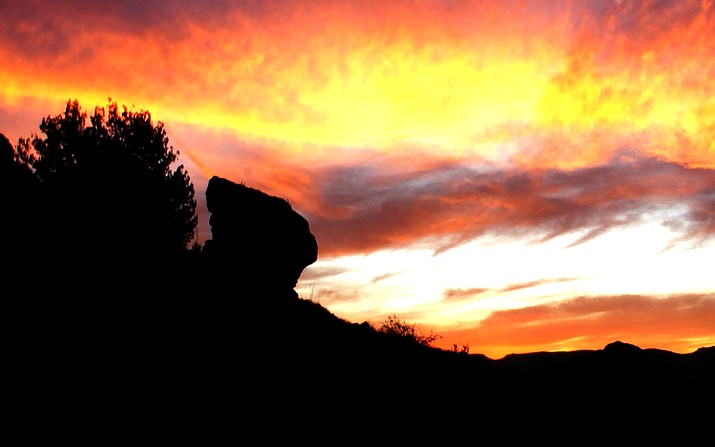 ---
---
Sometime in morning of April 2, members of the Verde Valley Photographic Society will begin to install their photographs at the Cottonwood Public Library.
For members of the Camp Verde photography club, it is their second collective exhibit since forming in 2014.
What once started as photography classes at both the Camp Verde and Beaver Creek libraries in 2013 became a club, a society of photographic artists.
For Bill Helm, it was clear early on at the classes that there were "several talented artists who needed an opportunity to show their work."
The upcoming VVPS exhibit will be on display at the Cottonwood Public Library from April 2 through June 30. Roughly 12 members strong, the club is still assembling its pieces for the exhibit.
"As a community space, the library is a perfect match for not only promoting the wealth of amazingly talented artists in our community but also promoting creativity itself," said Kyle Smith, library assistant at the Cottonwood Public Library. "The VVPS exhibit is a perfect example of this."
Each month on the fourth Thursday, from 3:30 p.m. until 5:30 p.m., the Verde Valley Photographic Society meets at the Camp Verde Community Library. Members discuss their recent projects, offer photographs for critique, and to solicit feedback and tips on becoming better photographers.
According to Helm, the purpose of the photographic association is to provide an outlet for photographers to learn from other photographers.
"There are many talented artists in the Verde Valley," Helm said. "And most artists cannot afford their own storefront, much less their own studio. Our group is just the beginning of what we see for photographers, for artists in the Verde Valley."
From November 2017 through January 2018, the Camp Verde library was host to the photography group's first exhibit.
For more than a year, Verde Valley Photographic Society members have explored the possibility of an artists' cooperative somewhere in the Verde Valley.
Equal parts gallery and working studio, the cooperative would be an artists' commune of sorts, a place where artists of all mediums could create art, talk about art, learn about art, and show their art.
Helm said that one day, the cooperative will be a reality in the Verde Valley.
"Once it is up and running, our photography group would still endeavor to show our work at local libraries, art galleries and coffee shops," he said. "For this second of our shows, our first at the Cottonwood Public Library, we can hardly wait. This means a lot to our talented photographers, and we hope the community enjoys our work."
The Verde Valley Photographic Society is always looking for additional members.
For more information about the Verde Valley Photographic Society, visit the group's Facebook page at https://www.facebook.com/verdevalleyphotographicsociety. Or call 928-300-0522.
ARTISTS' PROFILE
Devon Artrip
Devon Artrip is an elementary school teacher by weekday and a nature photographer by weekend.
She enjoys hiking and always has her camera hanging around her neck on the trails.
Dena Crill
Dena Crill, a.k.a. Montana Bandena, learned her love of photography by "watching my Dad and his love for it. He gave me my very first camera at 16. I never did catch on to film, as the earlier days in marriage didn't provide for luxuries such as cameras, film and processing."
Crill bought her first digital camera years later and fell in love all over again.
My husband became disabled and we started taking long country drives to deal with all the changes in our lives. I found that pointing my lens at Montana's grandeur brought me great peace and made me want to share God's blessings.
When I became disabled, we moved to this glorious Verde Valley. To my surprise, I have found the same glory and grandeur in the desert I now call home.
Bruce Julson
For more than 20 years, Bruce Julson has been using cameras and computers in the pursuit of his commercial creative career, primarily in the field of product photography and digital graphic design.
When Julson and his wife relocated from California to the Verde Valley, he found that he had time to re-discover his love of outdoor photography, particularly macro-photography: flowers, insects, and most things small.
"Composing an image in the viewfinder has always been the biggest challenge, after developing an understanding of your equipment, and I'm always learning new tricks with my cameras," he says. "That's what keeps it fun."
Michael Mount
Michael Mount lives in Camp Verde. He is a software developer by day who took an interest in photography at a young age. He started with film in the early '70s and made a full switch to digital in 2001. He attempts to make images that capture more how he feels than what he sees.
While he photographs for his own selfish purposes, he does hope that others can be inspired or moved by his imagery.
Tammy Reynolds
Tammy Reynolds has lived in Cottonwood since 2014. She received her first camera as a young girl just a little 110. 
"When I was 15 I earned enough money to buy my first 35 mm camera," she says. "In high school, I took photography and learned how to process my own film. It was very exciting being able to produce your own photos. I have now joined the digital world and love it."
Reynolds photographs "anything and everything" that catches her eye.
Sunshower Rose
Born in Canada, Sunshower Rose emigrated to the U.S. with her family, when she was 12 years old. She resided in Southern California until 1987, when she moved to Sedona. She has been a Rimrock resident for the past two years.
She dubs herself a 'professional right brainer' because she works and plays in several areas of the arts. Rose holds a Bachelor of Arts degree in Fine Art. In 2016 she founded Collaborative Art Works, an art movement, which encourages creatives of all genres to combine their works, thus creating a whole new look to art.
Always involving photography with her art, Rose's composition skills transfer from one to the other very naturally.
Mills
For Mills, making a small box camera as a school project fueled an interest in photography. Most recently Mills has been a contributor to the Verde Valley Photographic Society and promotes that group.
His inspiration to achieve a portrayal of life through photography that talks to the viewer, comes from his keen appreciation of the work of Ansel Adams. Personal enjoyment and satisfaction comes from capturing moments in the west that will never be forgotten.
He hopes you find enjoyment is his work as he has enjoyed producing it for you.
Mills currently makes his home in the Red Rock country of Sedona.
Bill Helm
Bill Helm has been a photographer since 1988. While studying to become a sports writer, his community college advisor suggested he learn photography to be a more diverse journalist.
Though Helm recalls his first roll of film to have been "rubbish," he knew that photography was his calling.
Helm mostly photographs nature these days – in black and white as well as sepia-toned – but in a past photographic life, his work was mostly of musicians and the female nude.
The Verde River has become Helm's favorite subject since moving to the Verde Valley with his wife in 2013.