Hazing at Mingus Union leads to 180-day suspensions for baseball players
By
Bill Helm
|
BillHelm42
Originally Published: March 27, 2018 12:23 p.m.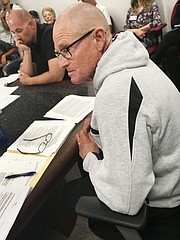 COTTONWOOD – Hazing is a matter of zero tolerance, the Mingus Union School Board said Monday in a 3-to-0 public vote to suspend one of its senior student-athletes for 180 days.
In an open disciplinary hearing that lasted close to three hours, senior Tyler Kelly was told that he would need to continue his education elsewhere if he planned to graduate in two months.
Kelly, whose family requested the open hearing, was suspended from school and from his place on the school's varsity baseball team due to a March 6 incident where he and another student were charged with a sexually related hazing of three students on a school bus.
According to Mingus Union Superintendent Penny Hargrove, the incident was reported "by the coaching staff that the bus was out of control and that they needed assistance to help resolve the situation."
Superintendent Hargrove also said that there were five adults on the bus during the incident, including the bus driver.
Since the incident, "protocol has been put in place to make sure this doesn't happen again," Hargrove also said.
Those protocols include a requirement that adults be "distributed in the front, the back and the middle of the bus for better eye-to-eye contact of the kids," Hargrove said.
Hargrove also said that though students can listen to music on the bus, that they must use earphones.
"If an adult can hear it, the music must be turned down or turned off," Hargrove also said.
The other student, whose hearing was limited and name wasn't released because of translation problems, also ultimately received a 180-day suspension from Mingus, said Superintendent Penny Hargrove.
Amid suggestions that there was a culture of hazing at Mingus Union, Hargrove said that while she doesn't know what happened at the school before she arrived on July 1, that hazing "is not the culture of Mingus."
"I can't believe if it had happened that it wouldn't have been reported and consequences delivered," Hargrove said.
In addition to the sworn statements given during Monday's hearing, school board members and sworn witnesses watched video evidence of the incident gathered from a school bus surveillance system.
Kelly's 180-day suspension means he cannot attend any of the district's three schools. This includes Mingus Union High School, the school's academy and the school's online program.
During the suspension, Kelly is not permitted on district property or at on- or off-district functions, such as sporting events, prom or graduation.
Though board members considered expulsion and suspension in their deliberation, Kelly's permanent removal was "tough to consider," board member Anthony Lozano said.
"At first I wrote down expulsion," said Lozano. "But I'm totally against ruining anyone's dreams. Every student has dreams and goals."
Before the board rendered its decision, Mingus Union board member Lori Drake told the 18-year-old Kelly that though she saw "no remorse" in him, she does see a "bright future" in the young man who wants to become a professional baseball player.
"Your parents have said wonderful things about you [today]," Drake said. "That's what this is all about."
School Board President Anita Glazar told Kelly that by watching his "body language," she "didn't feel there was any remorse, like we were a joke,"
"You're 18, you're accountable for what you do," Glazar told Kelly.
In November, Kelly signed a Letter of Intent to play baseball at the University of New Mexico.
"We're hoping the best for Tyler," Hargrove said. "We want the best for all of our kids."
Kelly and his parents declined comment to The Verde Independent.
Sgt. Monica Kuhlt, spokesperson for the Cottonwood Police Department, said Thursday her agency is investigating the reported assault that occurred on a Mingus Union High School bus.
"We are working with high school staff to confirm jurisdiction and that will determine the direction of this investigation," she said.
— Follow Bill Helm on Twitter @BillHelm42
Related Stories
SUBMIT FEEDBACK
Click Below to:
More like this story