Semi overturns on State Route 89A on Mingus Mountain
Originally Published: May 1, 2018 10:09 a.m.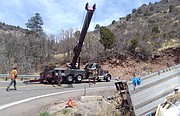 The Jerome Fire Department was alerted to an overturned semi-truck and trailer on Mingus Mountain Monday.
The incident prompted Jerome Fire Department to close State Route 89A at the fire station for any traffic headed to Prescott Valley, Prescott, Chino Valley.
Jerome Fire responded with a crew of two in the brush truck to a semi-truck on its side with an unknown cargo and unknown hazards. Once on-scene, Jerome Fire found a tractor trailer blocking the Northbound lane of SR 89A with the trailer on its side in a 10-foot ravine, still attached to the truck. There were five wheels suspended about five feet off of the ground with the 40,000-pound load of copper slag in bags that were spilling into the wash.
Jerome Fire checked for additional hazards and assisted DPS and ADOT with traffic control. The heavy lift tow truck arrived and Jerome Fire assisted the tow truck with the vehicle extrication and was put on standby with Brush truck 111 because of potential for sparks and resultant fire while the extrication proceeded.

Because of state-wide fire restrictions, Jerome Fire is on high alert for any possibility of a wildland fire in the Prescott National Forest.
Information provided by Jerome Fire Department.
More like this story
SUBMIT FEEDBACK
Click Below to: