New delay in 21-year-old murder case
Cecilio Cruz accused in 1997 shooting death of Marisol Gonzalez
By MAX EFREIN The Daily Courier
Originally Published: May 3, 2018 12:48 p.m.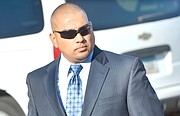 PRESCOTT -- Yet another speed bump has arisen regarding an already 21-year-old murder case.
The case is against Cecilio Cruz, who was indicted on charges of murder and manslaughter in the 1997 killing of his girlfriend, Marisol Gonzalez, and her unborn son.
On Tuesday, May 1, Cruz's defense attorneys, Michael Shaw and Sebrina Shaw of Shaw Law Firm, told Patricia Trebesch, the Yavapai County Superior Court Judge presiding over the case, that they must excuse themselves as Cruz's defense counsel due to a recently discovered ethical conflict. This is the second team of public defenders to withdraw from the case – the first team withdrew in early 2017.
"This conflict arose because it's an unidentified witness on the scene that was buried in a report and was never provided or disclosed to the defense; so once I asked for who that person was, that's when I became aware of it," Sebrina said.
After bringing this conflict to the attention of the State Bar of Arizona, the Shaws were told they would be essentially committing an ethical violation if they pursued the case any further, Sebrina said. The Shaws attempted to get an exemption for this conflict, but were unsuccessful, Michael said.
Trebesch was understanding of the situation.
"I think ethical matters that arise are certainly compelling and I think there's just no way around them; there just isn't," Trebesch said. "I wish that [the conflict] was easier to resolve and it didn't have the implications that it does in terms of having the two of you recused from this case."
The Shaws will be submitting to the Yavapai County Public Defender's Office their excusal from the case in writing and requesting a substitution of counsel.
"I've requested that they try to have two attorneys assisting Mr. Cruz," Sebrina said.
Sebrina indicated there may already be legal counsel in Phoenix willing to take over the case, but that it would take at least two weeks for that to be confirmed and for the copious amount of files related to the case to be transferred over to the new attorneys.
In light of the circumstances, Trebesch has decided to cancel the 20-day jury trial for Cruz set to begin January 22, 2019, and end February 27.
"I will reschedule [the dates] as soon as the lawyers are on board," Trebesch said.
The next status conference for the case has been set for Monday, June 4, at 10:30 a.m. Trebesch said she hopes new attorneys will be selected and ready to proceed with the case by then.
"Everyone has an interest in ensuring that this matter is tried to conclusion," she said.
Follow Max Efrein on Twitter @mefrein.
More like this story
SUBMIT FEEDBACK
Click Below to: