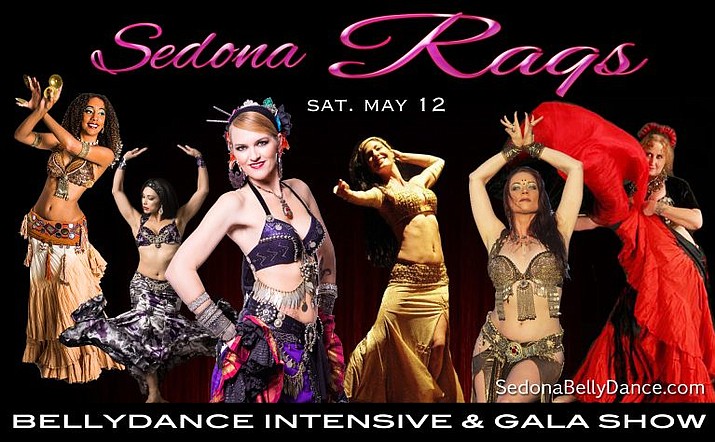 ---
---
Come to Relics Restaurant at 7 p.m on Saturday, May 12th for Sedona's Bellydance show of the year.
'Sedona RAQS', produced by Sedona resident Carrie Konyha of Lotus Studio and White Lotus school of dance, is a theatrical dance show featuring celebrated dancers hailing from all corners of Arizona to present authentic and contemporary fusion dances of Egypt, Turkey, India and beyond.
"Raqs' being the Arabic word for 'dance', is the inspiration for the name of this years event. The Saturday evening showcase show is just one of the highlights happening as a part of this day-long, annual event produced by Carrie that is drawing many people to Sedona for the day from neighboring cities & towns.
The 'Sedona Raqs Bellydance Intensive' features six mini-workshops with professional middle eastern dance artists from 9 a.m. till 4 p.m. at Lotus Studio in West Sedona located at 2050 Yavapai Dr, suite 3a. Workshops are $15 prepay or $20 at the door.
The Sedona RAQS Gala Show a full-length dinner show featuring performances by 20 spectacular dancers that is open to the public. Everyone is welcome to come to the show. Showtime: 7 p.m. at Relics Restaurant located at 3235 State Route 89A, Sedona, AZ 86336. Tickets are $10 with entrée or $15 show only. The show is expected to sell out so dinner reservations are recommended. Seating is general admission without dinner reservation. Call Relics Restaurant for reservations at (928) 282-1593 For event details and to register for workshops visit www.sedonabellydance.com