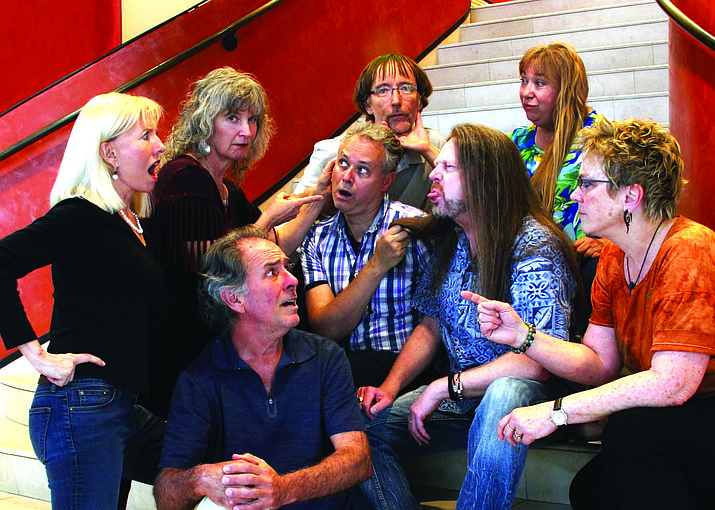 ---
---
According to Sigmund Freud, it's all about your mother. So join Zenprov for an evening of spontaneous hilarity in a special show they've dubbed "The Mom-o-logues." This one-night-only performance happens at 7:30 p.m., May 12th at The Mary D. Fisher Theatre in Sedona.

Besides the regular short-form games that Zenprov Comedy excels at, the show will invite guest monologists from the audience to answer questions or tell personal stories about their mothers, which Zenprov will then use for inspiration for long-form comedic scenes.
"Zenprov is the best comedy troupe in Arizona," said Mr. Patrick Schweiss, Executive Director of the Sedona International Film Festival. "At their last show, people were laughing so hard their cheeks were hurting."
Similar to the improvised TV show "Whose Line Is It Anyway?", Zenprov performs fast-paced, spontaneous comedic games created in the moment—always based on audience suggestions and hands-on fun with willing participants from the audience. Unlike sketch or standup comedy, nothing is scripted or rehearsed ahead of time. It's completely spontaneous and never the same show twice.
"We're looking forward to helping moms cut loose and have fun," said Derek Dujardin, director of Zenprov Comedy. "We'll be inviting mother's on stage to play in several games. As well as people telling their favorite mom stories which we'll turn in to comic gold."
The Zenprov players embrace the Del Close method of improv acting, which emphasizes the "group mind" that mysteriously develops during a performance. Miraculously, the player's minds fuse together to create a "super mind" where they practically finish each other's sentences—and often do. Laughter ensues.
The super minds of Zenprov are Derek Dujardin, Shaeri Richards, Chris Redish, , Betty Testa, Tom Shoemaker, Shaunn Cochran, Linda Roemer and Mary Carder.
This one-night-only performance is expected to sell out so please purchase tickets early. Tickets are $12 and can be purchased online at www.zenprovcomedy.com, or in person at the box office for $15 the night of the show with check, cash or credit card .

The Mary D. Fisher Theater is located across the street from the Harkins Movie Theater on 2030 St. Rt. 89A. Doors open at 7:00 p.m. Shows are rated PG-13 (Shows may contain adult material, themes and language) and run approximately 90 minutes. Visit www.ZenprovComedy.com to learn more.