Publisher says newspaper is 'a greater calling, a vital part of democracy'
Babette Cubitt takes over for retiring Pam Miller
By
Bill Helm
|
BillHelm42
Originally Published: May 10, 2018 1:28 p.m.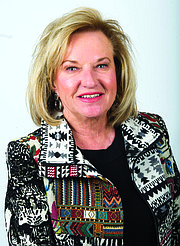 COTTONWOOD – As the new publisher of Verde Valley Newspapers, Babette Cubitt's challenge is "for us to go from good to great."
"A newspaper is a greater calling," Cubitt said. "The free press is a vital part of democracy, and an opportunity to make a difference in our communities."
Although she "tend[s] to be on the creative side," Cubitt sees her new role as that of "the enhancer."
"I see things how they are, and how they could be," said Cubitt, who on May 19 will become the company's 12th Verde Valley newspaper publisher in the company's 70-year history.
Verde Valley Newspapers, a subsidiary of Western News&Info, Inc., publishes the Verde Independent, the Camp Verde Bugle, Kudos and The Villager.
In a statement prepared by Western News&Info, Inc. vice presidents Kit Atwell and Blake DeWitt, "we are happy to see Babette take on this new challenge leading Verde Valley Newspapers and Kudos into a new era. We have confidence in her ability to bring new and exciting ideas to the newspaper and market."
About five years ago, Cubitt moved to Arizona after a career with the New York Times. Employed by Western News&Info, Inc. since her arrival in the Copper State, the bulk of her time out west has been with the Prescott Daily Courier, sister paper to both the Independent and the Bugle.
"I look forward to immersing myself in a new community. I am vested in making a difference in the communities that we serve," Cubitt said.
Cubitt has been heavily involved in her communities' philanthropic endeavors. She was recognized as Woman of Achievement by the U.S. House of Representatives in the State of South Carolina, is a former Rotarian and Paul Harris Fellow, and has sat on "numerous non-profit boards" throughout her career.
Challenges are welcome
With its "growth, accolades, being a culinary destination and a leader in the wine industry," Cubitt said that she is "excited to see the growth through a new vision for our communities."
Which for Cubitt is a challenge she welcomes.
"To continue the firm foundation set forth by Pam," Cubitt said of Pam Miller, who retires on May 18 as publisher of the Independent and the Bugle.
Both Atwell and DeWitt stated that "we wish Pam all the best in her retirement and her future endeavors. We know success follows Pam in anything she does."
Leaving the newspaper business after 35 years, the last 14 years in the Verde Valley, Miller said that "with Babette's experience in the newspaper industry, she will do great things."
"Her enthusiasm is contagious," Miller said of the new publisher.
Life's blood
Cubitt said she has been "overwhelmed" by the community's support since she recently arrived in the Verde Valley."
"I've been getting to know the community leaders and business owners who are the life blood of the community," Cubitt said. "And I've been very fortunate to walk into a newspaper with a stellar newsroom, passionate about the communities it serves. We're lucky to have a staff with a commitment to the community."
To Cubitt, a newspaper is "a good reflection of the health of a community."
"I believe we can make a difference in the community," she said. "People need to understand a community before they can act. And a newspaper helps with that."
Under Cubitt's charge, she hopes to see the newspaper expand its digital coverage to "make us basically a daily paper," as well as "expanding what we can do with our print edition."
Newspapers 'not dying, just changing'
Having worked at newspapers large and small, "up and down the east coast to the Midwest" and now the Southwest, Cubitt is "happy to work for a company with high standards." And she takes umbrage when people call the product of her life's work a "dying industry."
"It's not dying. It's just changing," she said. "Newspapers reach more people today, just differently. As the world changes, we're changing with it."
In the end, Cubitt said she is "honored to be part of an instrument that makes a difference in the world."
"A good community newspaper makes contributions to society," Cubitt said. "You feel good about the job you do every day."
-- Follow Bill Helm on Twitter @BillHelm42
More like this story
SUBMIT FEEDBACK
Click Below to: