Originally Published: May 11, 2018 3:04 p.m.
PRESCOTT VALLEY -- As a wildland fire near Prescott Valley rages on, the communities of Poquito Valley and Antelope Meadows are now under mandatory evacuation, and four homes reportedly have caught fire due to the blaze.
One of the homes that has caught fire is reportedly on the 10000 block of N. Nicholas Heights Drive.
A Code Red evacuation message was sent out to residents in the Viewpoint, Poquito Valley and Antelope Meadows neighborhoods Friday, May 11, as a wildland fire, driven by strong winds, ripped through the area.
Fire crews from both Central Arizona Fire and Prescott Fire fought the blaze, which appears to have started near Highway 89A, northwest of Viewpoint, said Rick Chase, spokesman for Central Arizona Fire, and was moving toward homes.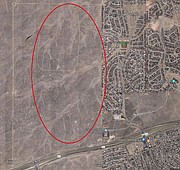 "I'd say it's pretty big, not sure how many acres," Chase said. "They're trying to get ahead of it."
Incident commander Cougan Carothers requested a helicopter and air tankers from the U.S. Forest Service.
A vehicle crash on Highway 89A near Viewpoint Road, during the fire, at about 11:30 a.m., required a Prescott Fire engine to respond from station 72, on Iron Springs Road, several miles away.
A radio dispatch reported that some residents were calling 911 to say the fire was approaching their homes.
By noon, Chase said, the fire was burning toward the Poquito Valley area.
Carothers reported by radio that the fire had two distinct heads and was moving north at 10 to 15 miles an hour.
He gave a rough estimate of the fire's size as "a few thousand acres" at 12:15 p.m.
At 12:45 p.m., PVPD Sgt. Jason Kaufman said the Viewpoint subdivision north of Highway 89A, west of Viewpoint Drive and Poquito Valley north of Acre Way were under evacuation orders.
A shelter for evacuees was set up at the Yavapai College campus in Prescott. The Code Red alert said that assistance was available at 928-771-3260, the number for the Sheriff's Office.
Thirty homes were reportedly threatened by the fire at about 12:45 p.m.
By 12:54 p.m., the Prescott Hotshots had been assigned to the fire and a task force was on the way from Camp Verde as well.
The concern was for structures to the north of the fire, which appeared to be in imminent danger.
By 2 p.m., officials were beginning to move to prepare southeastern parts of Chino Valley for evacuation. Evacuations were implemented for Antelope Meadows, and officials released the Viewpoint area from evacuation orders.
Fire officials asked Sheriff's deputies to close Perkinsville Road at 2:15 p.m.