Five Mingus baseball players named All-Grand Canyon
Originally Published: May 12, 2018 12:56 p.m.
Mingus Union baseball was well represented on the All-Grand Canyon team with five players and three on the first team.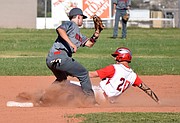 Junior Justin Tanner, as a pitcher, senior Jordan Huey, as a position player and senior Skylar Waynick, as a position player were on the first team.
"It ended up great," Mingus head coach Erick Quesada said. "We had Justin Tanner get first team all-region for pitcher, he did outstanding, 4-0, Jordan Huey hit I think over .500 now after the state tournament game. Then you had Skylar Waynick, who was solid defensively and offensively."
Tanner had a 1.07 ERA this season, Huey batted .500 with a .553 on base percentage and 22 RBIs and Waynick batted .366 with an on base percentage of .483, 15 RBIs and 26 runs.
Senior Tyree Kim, as a position player and junior Chris Mathe, as a position player were on the second team.
Kim batted .391 with 16 RBIs and Mathe batted .400 with 20 RBIs and 28 runs.
Senior Justin Link was honorable mention. He batted .370 in replacing All-State catcher Gus Henley.
"As far as the second goes, you had Chris Mathe, a junior, which is really, really good for him as well because I was it was a stacked senior season for all our teams and then you had Tyree Kim who's a senior leader, stepped up when he needed to step up and then honorable mention," Quesada said. "Justin Link who stepped into some huge shoes as a catcher. It's great for the program, great for the guys, they deserve every bit of a respect and notoriety that they receive from all the coaches in the region."
Quesada said that senior Martin Soria and junior Bradley Howard were guys who could've been All-Region or at least honorable mention.
"You could throw Martin into the mix, Martin had his off and on games just like anyone else and then you had Bradley Howard coming back
halfway through," Quesada said. "In all honesty, Bradley Howard hit the ball hardest these past four or five games and none of them ever fell, they were always right to people and that's just how baseball works, baseball's a fun game. It makes me excited for next year and the year after that because that's something that they gun for: they want to be the best in the region and when you're the best in the region, it comes also with a lot of wins as well I'm excited for what the future has in store."
More like this story
SUBMIT FEEDBACK
Click Below to: