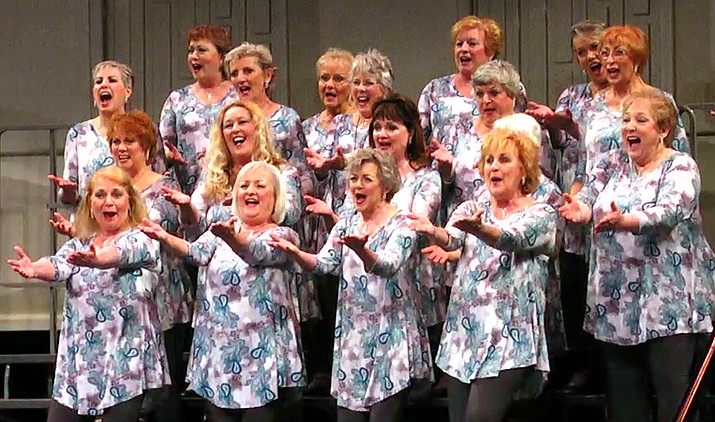 ---
---
Take a familiar melody, blend in three parts of close harmony, add some choreography and costumes, then multiply this by 20 enthusiastic women who love to sing, and you get the Red RockAppella chorus.
Red RockAppella is looking for more women in Sedona and the Verde Valley who love music and like to sing, too.
Women of all ages are invited to the chorus's annual Open House/Membership Guest Night on Monday, May 21, 7:00 p.m., at West Sedona School, 570 Posse Ground, Sedona. The festive event takes place in the school's music room, #604.
Any woman of average singing ability has everything she needs to join the fun. There's a part to fit every voice range, and vocal training or musical experience is not necessary to participate.
Red RockAppella is a women's nonprofit singing organization that began in the Village of Oak Creek in 2006. Members of Red RockAppella share a love of music, harmony, and friendship. They experience increased self-confidence, renewed vitality, and the invaluable, unwavering motivation and inspiration of others. Above all, of course, they share the joy of singing and hearing the sweet harmonies and the thrilling, ringing overtones of beautiful four-part, a cappella harmony—and, especially, how it feels to sing them.
All women in the Sedona and greater Verde Valley are invited to Red RockAppella's Open House on Monday, May 21. It is hoped that every woman who comes will be bitten by that barbershop "bug"—for a lifetime of a fulfilling hobby and the friendship of other women who share her passion.
Red RockAppella performs year-round throughout the Sedona and Verde Valley communities, offering its musical talents at many civic events and charitable functions. Some of the activities in which the chorus participates are an annual show, local Fourth of July and Christmas performances, and a Holiday "singing card" event.
At the May 21 Open House/Membership Night and under the direction of Jeanie Carroll (a West Sedona School music teacher and well-known local performer), the chorus will sing several songs to demonstrate how four-part barbershop harmony works. Guests will learn a simple song, participate in a few vocal exercises, learn a "tag," sing a song, enjoy entertainment and refreshments, and thrill at those ringing "barbershop" overtones. By the end of the evening, they'll be singing together in beautiful harmony. New friends, great music, and a wonderful time are in store for everyone.
Red RockAppella meets every Monday evening from 6:30 to 9:00, alternating between convenient locations in West Sedona and the Village of Oak Creek. Visitors are always welcome. Carpooling is available from Cottonwood, Camp Verde, and Flagstaff. For more information, call Jeanie at (928) 300-7092 or Karen at (928) 274-4934, or visit the chorus's website at www.redrockappella.org.