Originally Published: May 17, 2018 1:24 p.m.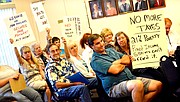 COTTONWOOD -- Cottonwood City Council voted 4-3 to increase the sales tax by half a percent, raising it to 3.5 percent in the hopes of trying to alleviate a more than $1.5 million deficit.
This was a slight compromise from the initially proposed .65-percent increase.
Cottonwood Mayor Tim Elinski, who initially said he was against a sales tax increase, was the tie-breaker in the vote.
"This isn't a silver bullet," he said. "It's still going to be a difficult road ahead for us."
Staff will move forward with preparing a Notice of Intent for a public hearing and possible adoption at a future meeting. In addition, staff will also move forward with preparing a tentative budget assuming the increase as a revenue stream for future deliberation.
'Those who live on small margins'
Last week, members of the public attended two separate budget meetings with signs advocating for a 0.65-percent sales tax increase.
Many argued that Cottonwood is a full-service city serving the entire Verde Valley and needs to increase revenue in order to continue providing services to the community
"As far as I'm concerned, we are overdue for an increase in the sales tax," said Cottonwood resident Terri Clements at a May 8 meeting.
This time, those on the opposing side showed up to share their concerns.
Sherry Twamley, a resident of the unincorporated area of Verde Village, criticized council for what she feels is superfluous spending and not being in touch with citizens of the community.
"The problem we have is that the Cottonwood City Council is insulated from these people and they aren't dealing with reality," she said. "If you managed your home the way you managed the city, you'd all be on welfare … the citizens of Cottonwood deserve better representation."
Cottonwood resident Michael Mathews, who has announced his intent to run for a seat on the Cottonwood City Council, said that he represented "those who live on small margins … they can't be here tonight."
"You won't see them at The Tavern, or at Crema, probably won't see them at the Rec Center and you won't see them at line in Starbucks," he said.
According to data from the latest United States Census Report, 21.5 percent of Cottonwood residents live in poverty.
Mathews, who works with Meals on Wheels said "it's heartbreaking and depressing to meet these people and see how they live."
Mathews continued by criticizing Council Member Karen Pfeiffer for outwardly supporting a sales tax increase during last week's budget meetings.
"You should be censured by your fellow council members for grandstanding at the dais like you did last week," said Mathews.
Mayor Elinski asked the public to keep comments to the council as a whole rather than call out individuals.
Pfeiffer interjected: "That's OK. If I'm on Michael's list, I'm doing the right thing."
Cornville resident Jayne Lauman, who said she and her husband are on fixed incomes, also addressed council. She said she was in favor of a sales tax increase because of the services Cottonwood provides.
"We would like to see you adopt this new sales tax so you can help support the services we enjoy in Cottonwood," she said. "I believe there are so many services available to the people in Cottonwood that help people on limited income."
Food tax
One major talking point in the sales tax conversation is whether or not to tax food.
Some members of council asked why the sales tax couldn't be waived from food
"It's a regressive tax. There are no two ways about it," said Elinski.
The issue of sales tax on food has been brought to voters in the past. In 2001, a proposition to repeal the city's sales tax on food was put on the ballot. Voters overwhelmingly opposed the proposition by 581 votes.
Cottonwood Deputy City Manager Rudy Rodriguez, arguing how valuable it is for the city to keep taxing food, said back in 2001, sales tax revenue from food was only bringing in $600,000 a year. Today, it's bringing in $2.3 million.
"It's a pretty viable source of revenue," he said. "A lot of it is also coming from outside the corporate limit."
Council Member Ruben Jauregui suggested adding a food tax on the ballot.
"Let the people decide," he said.
Council member Deb Althouse said her concern is citizens at the poverty level where just a few cents can make a difference.
"That's a lot for some people who are living paycheck to paycheck," she said. "I know a man who was homeless a year ago ... those are the people I'm thinking about."
Vice Mayor Kyla Allen, who publicly supported a sales tax increase, said that she used to be homeless herself.
"For you to try to use the homeless on this I find offensive," she said. "The people who are going to be affected by this are the wealthy. They're the ones speaking out about it."
--Follow Kelcie Grega on Twitter @KelcieGrega