Camp Verde's Decker signs with Loras College in Iowa
Originally Published: May 19, 2018 1:26 p.m.
Camp Verde High senior basketball player Chase Decker is taking his talents east.
Decker will play at Loras College in Dubuque, Iowa and study engineering. Loras is an NCAA Division III school and a Catholic liberal arts college and has an ABET accredited Engineering program.
"I picked Loras because we went out there to Iowa to visit the college in February and I really liked the area," Decker said. "It's a little bit smaller than Flagstaff but the area is really nice, all the buildings are cool, red bricks and the inside of the college is pretty nice, newer facilities. The campus is really small. They're one of the colleges that we looked at for me to play basketball, that also had an engineering degree, a lot of DIII schools are just too small to have that engineering degree, academics first."
Decker chose Loras over schools like UC Santa Cruz, Arizona Christian, Penn State Beaver, College of St. Scholastica, Queens University of Charlotte and Emmaus Bible College.
Loras has an enrollment of about 1,528. They are nicknamed the Duhawks, which originated from Dubuque Hawks.
Last season the basketball varsity team when 19-7. They have a JV and a prospective team, which is more for freshman, so Decker will get minutes even if he doesn't play a lot on varsity.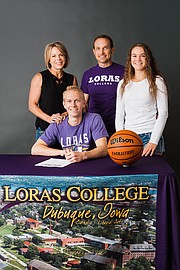 "I'm pretty excited, I think it's gonna be fun," Decker said.
Loras head coach Chris Martin led the Dukawks to their first Iowa Conference Championship since the 2006-07 season when he arrived.
"They had a really good coach come in," Decker said. "He's a fairly new coach and he's supposed to be really good I just think I'll like the area."
Decker was offered a dozen academic or athletic scholarships and he is getting $18,500 a year for four years at Loras.
He was Camp Verde Kiwanis Student of the Month for March and has a 3.9 GPA, which was seventh in the class of 2018 at the time. He has been in the National Honor Society for three years and Fellowship of Christian Athletes for four years.
He decided he want to be an engineer after wanting to be a physical therapist in middle school and his freshman year. However a trip to a college cadaver lab for a sports medicine class proved fateful.
"I kinda realized it wasn't my thing (laughs), just the smell, I knew I wouldn't have been able to do that for four years (laughs)," Decker said. "So I kinda changed my mind and I always liked solving problems and thinking of new ways to fix things, so my parents said 'mechanical engineering, that's kinda what they do, that might be a good thing for you to look at.'"
While in high school he took English 101 and 102, pre Calculus and Calculus I and II at Yavapai College.
His goal is to practice about two hours a day but that's not set in stone anymore.
"Sometimes there's other circumstances, you know the gym's closed or it's super windy out so it's hard to shoot (laughs) or I'm busy but generally two hours a day and if there's a day that I miss, I make sure I'll get in the next day for even longer," Decker said. "I don't really count anymore, because I got to the point where it's more just about being in the gym because I like it. As a kid it used to be almost more like a chore like 'ugh, I gotta go shoot 200 shots,' now it's like 'oh, I get to go to the gym,' I'll shoot 500 to 600 shots and it's fun."
In addition to suiting up for the Cowboys, he has also played for Future Stars of Phoenix, Verde Valley United out of Sedona and the Verde Venom.
He's learned under ex-pros and coaches like Peter Ezugwu, Corey Gaines, Rachid Boustila, Mike Bibby and Paul Hoover.
He said the biggest aspect of his game that's he's improved under Hoover was his shooting.
"As a freshman I'd make some shots from the perimeter, but it wasn't really anything special and I really wasn't much of a penetrative player, I'd stay more on the outside," Decker said. "Coach Hoover has really helped my shooting, he changed my form a lot and my percentage has gone way up compared to what it was and he's started helping me with my mindset of what it takes to drive and penetrate because I used to think about it wrong."
Decker hopes his example can help to inspire younger Cowboys, like his sophomore sister Tanna.
"I'm pretty excited," Decker said. "I think it'll be really fun and cool. There hasn't been many that I know of that played from the Verde Valley in a while and so it's a good chance to not only show myself and the skill I have, but also encourage some of the upcoming players. They can do it, they just need to work hard and really push themselves to do their best, especially my sister. If she continues to work hard and push herself, she definitely has the opportunity to play in college too."
More like this story
SUBMIT FEEDBACK
Click Below to: