Five Mingus softball players earn All-Grand Canyon honors
Originally Published: May 19, 2018 1:22 p.m.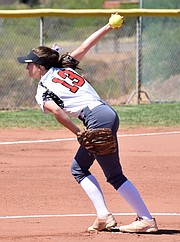 Five Mingus Union softball players made the All-Region team, with senior Nikki Zielinski winning Grand Canyon Player of the Year.
Zielinski, senior pitcher Kaycee Williams and junior infielder Ashley McCracken made the first team.
Sophomore catcher Jasmine Shults, junior outfielder Delaney Hartnett and sophomore outfielder Dylan Sweeney were on the second team.
"I thought we did really well," Mingus head coach John Brown said. "I mean to get five kids on the All-Region team is a good representation and to have the athlete of the year, that's a big deal, the pitcher of the year and the second team catcher of the year, I think that's a good showing for Mingus."
Junior infielder Lexi Ough was honorable mention.
Zielinski was first in the region in stolen bases, second in home runs and slugging, third in runs and fifth in RBIs.
"It's a huge deal," Brown said about Zielinski winning player of the year. "It was a hands down vote, she got athlete of the year, first team All-Conference, first team All-State, she was obviously the MVP of our team, so it's just a big showing for Mingus and it shows who she is."
Mohave's Shannon Patterson won coach of the year, Alicia Rhodes of Mohave won defensive player of the year and Bradshaw Mountain's Madisen Duryea was offensive player of the year.
Brown thought more Marauders could've gotten more recognition but the extra large region makes it harder. The Grand Canyon has seven teams, while most 4A regions have five.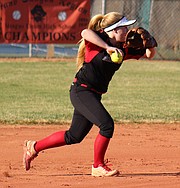 "I think there were a couple kids on our team that could've been honorable mention, there were a couple kids that were second team that should've been first team, but when you start dealing with we have a large region, we have six other teams in our region it's a lot of kids," Brown said. "The voting starts chasing seniors and juniors and the younger kids don't get recognized as much."
SUBMIT FEEDBACK
Click Below to:
More like this story