One person seriously injured in Perkinsville Road rollover
Originally Published: May 21, 2018 12:10 p.m.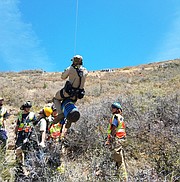 JEROME – At 10:45 a.m. Sunday, the Jerome Fire Department was dispatched to a rollover accident about six miles outside of Jerome on Perkinsville Road.

Units from Verde Valley Fire District, Cottonwood Fire and Medical Department, Verde Valley Ambulance and Yavapai County Sheriff's Office responded to the accident, according to a press release from the Jerome Fire Department.
The press release also stated that a bystander on scene reported that "two vehicles involved with an unknown number of patients and one vehicle was upside down with patient entrapment."
Jerome Fire Department found a single vehicle on the hillside about 250 feet down from the edge of the road on a 45-degree slope, the press release stated. The vehicle had rolled over on its roof, with one man trapped inside.

Jerome Fire Department found a man who had reportedly removed himself from the vehicle and was sitting in the back of a pickup truck with multiple minor injuries.
According to the press release, the patient was assessed by Jerome Fire Department EMTs and Verde Valley Ambulance crews, then was transported by Verde Valley Ambulance 913 to VVMC.

Fire crews then set up a rope system and ascended with fire and medical personnel down to the vehicle below to begin extrication and patient care.

Incident Command requested a medical helicopter and DPS Ranger for a short-haul rescue from the side of the mountain, while personnel set up for a steep angle haul to extricate the patient from the hillside, giving crews two options for patient extrication.
The DPS Ranger was eventually able to facilitate the operation with the patient being lifted directly into the helicopter then flown to North Mountain Medical and Rehabilitation Center in Phoenix with serious injuries.
-- Information provided by Jerome Fire Department
More like this story
SUBMIT FEEDBACK
Click Below to: