Editorial: Much can change before sales tax hike becomes official
Originally Published: May 22, 2018 3:06 p.m.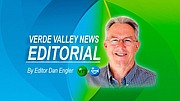 For those still not convinced the Cottonwood City Council is acting in your best interests by raising the municipal sales tax a half-cent on the dollar, rest assured that there is still plenty of time to make your voice heard on this one.
Last week's 4-3 vote to raise the municipal levy to 3.5 percent is only the first in many steps the City Council has to take before this bump in the transaction tax becomes reality.
In June, it is expected city staff will approach the council with a "Notice of Intent" to officially raise the sales tax. This sets the stage for legal public noticing of Cottonwood's intention to raise the tax. What follows then will be two separate hearings, most likely to take place in July, at which time those both for and against will be given the floor to make their case.
All of which will take place in the heart of an election season, and it's likely the sales tax question will be the central theme of political aspirants desiring a seat on the City Council. Even more important, it puts those incumbents on the council who supported the tax hike in the political hot seat leading up to the August municipal primary.
The perfect recipe for a flip vote.
This debate is far from over, folks.
Fully expect a lot of heat for those in the hot seat.
More like this story
SUBMIT FEEDBACK
Click Below to: