Arizona Attorney General indicts former Cottonwood employee
Hans Burnett facing felony charges after allegedly forging drinking water bacteria test results

Originally Published: May 24, 2018 2:31 p.m.
COTTONWOOD -- An Arizona grand jury has indicted former Cottonwood employee Hans Burnett after an investigation revealed he allegedly forged drinking water bacteria test results, according to a news release by Arizona Attorney General Mark Brnovich.
Document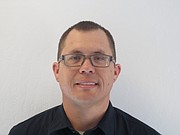 Cottonwood City Manager Doug Bartosh said Burnett resigned from his position as wastewater operations foreman Wednesday. Burnett is accused of changing bacterial test results submitted to the state from positive to negative, according to the AG's office.
"From 2015 to 2016, Burnett allegedly instructed subordinate employees to modify the test results and paperwork associated with drinking water compliance samples in Cottonwood," the release stated. "The altered results were submitted to the Arizona Department of Environmental Quality as part of the City of Cottonwood's drinking water compliance obligations."
The bacteria, coliform, should be tested regularly to comply with state drinking water regulations, according to the release. According to the Arizona Department of Environmental Quality, "coliform is an indicator of the water condition rather than an immediate public health concern."
Bartosh said the city did its own investigation into Burnett's actions and did not come up with the same severity of fault as the Attorney General's Office.
"Based on our investigation, there was no indication the public was ever at risk," Bartosh said. "I think it was just sloppy, negligent work, based on our investigation."
Bartosh said that while he can't comment further until he sees the full report by the AG, he calls the results of the investigation "unfortunate."
"The city took on the water companies when they were in poor condition," he said. "[The city] has done a good job at taking them over so to have this come up is unfortunate."
Cottonwood Mayor Tim Elinski wrote in an emailed statement to The Verde Independent that he is "very concerned about the charges from the Attorney General."
"I am anxious to read the investigation from the Attorney General's Office," he wrote. "I have not seen it yet, I will do everything I can with the support of council to make sure we fully understand what occurred and put measures in place to ensure this never happens again, and restore confidence in our community's water and wastewater system."
Assistant Attorney General Adam J. Schwartz is prosecuting this case, according to the AG news release.
-- Follow Kelcie Grega on Twitter @KelcieGrega
Related Stories
More like this story
SUBMIT FEEDBACK
Click Below to: