Camp Verdeans balance work, retirement

By
Bill Helm
|
BillHelm42
Originally Published: May 24, 2018 2:34 p.m.
CAMP VERDE – It's been 10 years since Chip Norton retired. Though most folks who know him couldn't say what he did by way of gainful employment, it's his post-career career as a volunteer that has made him a household name in the Verde Valley.
In fact, Norton says he's "flunking on retirement."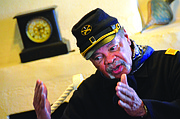 "I haven't accomplished balance between retirement and work," says Norton, who just may need to take on a full-time job so he can slow down his feverish pace. "I'm not bored at all."
When it comes to advocates of the Verde River, Norton is about as serious as it gets. A part of the Friends of the Verde River and the Verde Watershed Association, he's also been involved with the Yavapai County Resource Advisory Committee, Camp Verde Design Review Board, Camp Verde Sanitary District, Camp Verde Planning and Zoning Commission, Verde Valley Land Preservation and Community Forest Trust.
Norton says that there's "no better group of people to spend your time with than community volunteers."
Not just for making friends and keeping busy. But also for keeping healthy, he says.
"It's really a beneficial thing for people," Norton says. "They'll live longer and be happier."
Concentrate on just a few things
In retirement, Camp Verde resident Ed Lee is "trying to concentrate on just a few things."
In the past few years, Lee has been connected with the start of the Camp Verde Business Alliance, as well as with getting Osher Lifelong Learning Institute started in Camp Verde.
Nowadays, his active living efforts take him to Fort Verde State Historic Park, where he is one of the historic presenters.
"I have found myself enthusiastically learning about the trials and tribulations of the U.S. Army's Buffalo Soldiers and preparing myself to travel about to share that information with others who seem to have an interest," Lee said.
As he reflects on his days with the Osher program – better known as OLLI – Lee said that "about 65 percent" of the program's Camp Verde students were at least 55 years of age.
"When I did OLLI presentations, only occasionally did I get solicitations from people who were not of retirement age," Lee said.
As for ways to avoid boredom in retirement, Lee admitted that he hasn't "found the secret" to actually retiring. Because he's always rather busy.
-- Follow Bill Helm on Twitter @BillHelm42
More like this story
SUBMIT FEEDBACK
Click Below to: