Editorial: 2018 political landscape taking shape in Verde Valley
Originally Published: May 24, 2018 3:08 p.m.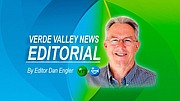 The final touches on the picture will not be complete until 5 p.m. May 30, but the landscape of the 2018 Verde Valley political season already is taking shape.
So far, Cottonwood and Camp Verde provide the most intrigue.
Based on the official filings to date, the Camp Verde mayoral race will be one of the most interesting races in the Verde Valley this year. Popular incumbent Charlie German will be challenged by one of the real veterans of elective service in Camp Verde, longtime council member Jackie Backer.
There are three seats to be filled on the Camp Verde Town Council. Already, two people have filed petitions to official qualify for the ballot: Bill LeBeau and former council member Carol German. LeBeau is a newcomer to the local political scene, but German previously has served on the council and finished fourth in a five-person race in the 2016 Camp Verde primary.
Across the Valley in Cottonwood, change is a certainly as it is unlikely incumbents Karen Pfeifer and Linda Norman will seek another term of council service. There are three council seats up for election in Cottonwood in 2018 and social media banter indicates Vice Mayor Kyla Allen will seek election to the seat she originally was appointed to fill.
Already in Cottonwood, there are two official candidates who have filed petitions and paperwork with the city clerk's office. They are Michael Mathews and Jackie Nairn.
Mathews publicly made his political intentions known in October of last year. He has been a consistent visible presence at city council meetings. He is aggressive on social media, most often taking aim at the city's fiscal policies.
Nairn is also a consistent visible face at council meetings and previously sought a seat on the Cottonwood council in the 2016 municipal primary, when she finished last in a five-person primary.
Clarkdale is typically the most politically tranquil community in the Verde Valley. That tradition looks to continue in 2018. There are two seats up for election in Clarkdale. To date, only incumbent Bill Regner has filed nominating petitions with the town clerk.
Up the hill in Jerome, the one thing we know is that longtime incumbent Lew Currier will not seek re-election. The other thing you can always count on in Jerome is that it will be interesting. Because the population in Jerome is so small, it is a community where write-in candidates can, and often do, get elected. The other unique dynamic in Jerome is that the council terms are not staggered. The entire five-council slate is up for election every two years, and town tradition is such that the top vote-getter in the primary takes over as mayor. Predicting election outcomes in Jerome is as much a certainty as the next hand you are dealt in a game of poker. But here is one bet worth taking: the obvious emerging leader in Jerome is Hunter Bachrach. He has gained the community's respect. He is seen as a clear voice of reason in the mountainside community.
The final pieces of the Verde Valley political puzzle will fall into place at 5 p.m. May 30, the deadline for filing nominating petitions.
Municipal primaries are scheduled for August 28, and the general election will be Nov. 6.
More like this story
SUBMIT FEEDBACK
Click Below to: