Mingus Union athletes of the year: DeVore qualified for State in eight track events plus cross country
Originally Published: May 24, 2018 6:07 p.m.
Mingus Union cross country and track and field star Hannah DeVore finished the season on several high notes.
Not only did DeVore win MUHS female co-athlete of the year, he also set personal records in her last meets.
"The school year was awesome, it was the perfect senior year," DeVore said. "I had a lot of fun, I made a lot of new friends and I just had a great sports season, great academics, so it went really well."
She was female co-athlete of the year with volleyball, basketball and softball player Nikki Zielinski.
"It was awesome, I'm really proud of it and I definitely worked hard to get that and so it's a great way to end my high school career," DeVore said. "It's really exciting and I'm really thankful to have won that."
DeVore finished first in the 100 meter hurdles at State, second in the 300 meter hurdles at State and her 4x400 relay team was third at State.
Then a few days later at the Meet of Champions, which matches up the best athletes across all the division, she took third in the 100 meter hurdles, getting a personal record of 15.17, which was .04 seconds off the school record.
"Hannah did awesome this year, I think she exceeded her expectations and ours as well, she ended up first in State, third in State and third in her three events that she went in and then ran at the Meet of Champions and actually got a huge PR, so that was awesome," Mingus track and field head coach Molly Westcott said.
She also got a PR in the 300 meter hurdles at the state meet.
Westcott said that was a great way to end her career and it showed that all her hard work paid off.
"It was awesome State was a blast, like I said the team was the most supportive one that I've ever been on, so it was just a fun two days and I did well in both of my individual events and then our relay team for third, which is kind of a surprise, so it was a lot of fun," DeVore said. "And then Meet of Champions it was great to end my high days on the fastest race I've ever run, so that was really awesome, I had a ton of fun."
DeVore qualified for eight events at the state meet.
Photo Gallery
Mingus Union High School 2017-18 Athletes of the Year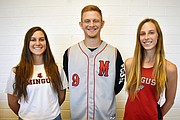 Mingus Union High School's athletes of the year for 2017-2018 are cross country and track and field's Hannah DeVore, football and baseball's Justin Link and volleyball, girls basketball and softball's Nikki Zielinski. (Photos by James Kelley)
Westcott said she was "insanely" versatile.
"Honestly that is unheard of truly, for a kid to qualify in eight different events and I honestly think that she could have done more had we had more time but it just kind of attests to her as an athlete and all of the work that she puts in," Westcott said.
Picking what events she would compete in at State wasn't that difficult.
"It was really about her and she's worked so hard in the hurdles and so that was out priority, to get her in there and the 4x4, she's just been an integral part of that, so that was kind of a given and then as far as the Meet of Champions goes, she chose what she wanted to do, that's her last race and I think she made the right decision," Westcott said.
Although she took up cross country to stay in shape for track and field, she qualified for State in that sport too, the Marauders' lone state qualifier.
"Cross country was kind of rough in several ways and it's definitely not my favorite sport, but I'm still really glad I was able to make it to State because that was a good way to end my cross country career as well and I think I did a lot better at the end of the season than I had thought I would, so it was good to push myself in that way, so I was proud of that," DeVore said.
With a gpa over 4.0, she was Summa Cum Laude. She won the BBB Ethical Athlete Scholarship, as well as scholarships from NAU and the UA.
"She's just a good role model and good person all around," Westcott said.
DeVore is going to go the UA, where she will major in global studies.
Between cross and track and field seasons she was a fixture at Mingus Union soccer and basketball games but that's not all she was up to.
"I'm really involved with my church, so I go on a lot of mission trips, so like this year we went to Houston after the hurricane and then Belize in the spring," DeVore said. "So I think God is definitely a big part of my life, so that's probably the biggest thing outside of school and then I just like hanging with friends and with my family."
DeVore is the daughter of Yancey DeVore, who was track and field coach at Mingus Union until he took over as athletic director. She said being the coach's daughter didn't add extra pressure.
"It was definitely a positive, I would not say I ever felt like I had to do well, I think the person that put the most pressure on me is myself," DeVore said. "I'm really hard on myself and my dad never made me feel like I had to do well, he just supported me wherever I was at and he pushed me to do better but he never was like disappointed in how I did, so he was a really awesome coach and definitely shaped who I am as an athlete, so I think it was really good and he was just a very positive influence on me."
DeVore's leadership not only helped the team but also the first year head coach Westcott.
"It was great honestly and Hannah being one of the captains and in the captains club put a lot of stuff together for the team this year and they had weekly talks with the team about citizenship and sportsmanship and things like that and so just having her being one of those captains and one of the leaders on the team really helped, especially in my first year, it just really brought the team together and she was a huge, huge part of that so, I don't think it would have been a success if it weren't for her," Westcott said.
DeVore wasn't going to play sports in college but now she's thinking of walking on the Wildcats' track and field team next year.
She said the key to being so successful academically and athletically is to put school first, but that sports can help your academics.
"I think it's just a learning process," DeVore said. "I'm definitely better at managing things than I was when I started high school. You have a lot of resources to help you out, so you definitely utilize those."
More like this story
SUBMIT FEEDBACK
Click Below to: