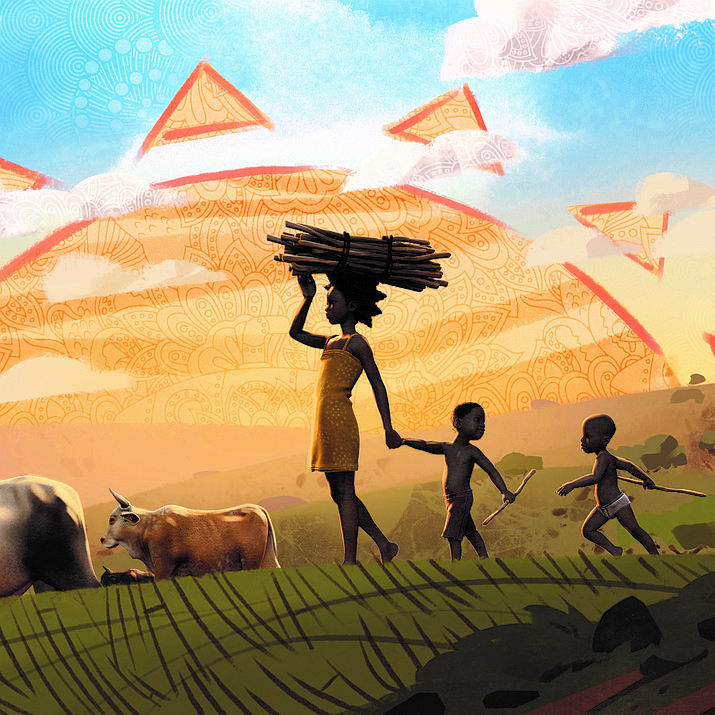 ---
---
On Saturday, June 2 during a special free event for 25 lucky children, the ILLUMINATE Film Festival explores the power of storytelling with the enchanting film Liyana.
This compelling film ponders the question; What would happen if everyone had a storyteller to help them release their tension or heal their trauma, digesting it through joyful creative expression?
The screening will be followed by a Reel Healing, Tell Your Tale, recommended for children ages 8-14 and their parents, featuring professional storyteller and local favorite Dev Ross, who will take children on a powerful journey to the heart through the creation of their own story. In the same spirit as the film, with the help of the artist, children will fashion a collective tale from beginning to end.
An epic narrative, Liyana chronicles the lives of five orphaned children who heal the scars of their own lives in Swaziland with the help of a professional storyteller. Together they create their own original tale about a courageous heroine, Liyana. These precious children have been touched by AIDS, alcoholism, abandonment and abuse, but they create a new world of hope and dignity, despite all odds, in the guise of the fictional character. Their tale, which is animated, follows Liyana's dangerous quest to rescue her young twin brothers through faith and perseverance. It is interwoven with poetic documentary footage of the creative process in the classroom and countryside. Liyana is a genre-defying celebration of collective storytelling, and Liyana the character, the pearl at its center.
Dev Ross' career has spanned writing, acting and teaching. In addition to authoring the script of the successful children's movie, "The Land Before Time," Ross has garnered writing credits for Disney, ABC, Fox Kids, Universal Studios, TLC, The Discovery Channel, Nickelodeon and PBS. A recipient of an Emmy Award and an Action in Children's Television Award, she has lent her talents to Sedona's Artist in the Classroom program for two decades.
Space is limited to 25 children (age 14 and under). It is recommended that those interested in attending get their tickets early, as it is expected to sell out. To reserve your free spot, email louann@illuminatefilmfestival.com by May 31. Regular tickets for adults are $25 at illuminatefilmfestival.com/liyana.
VIP All-Access Passes include unlimited film screenings, VIP receptions, Conscious Film Convergence panels, Luminary Living Room series and the Virtual Reality Zone. (Access to Filmmaker Labs is not included.) Passholders also receive priority theater access. 
For tickets go to: http://illuminatefilmfestival.com/tickets-passes.
The 2018 ILLUMINATE Film Festival is scheduled for May 30 - June 3 at the Sedona Performing Arts Center and Mary D. Fisher Theatre. For more information, visit www.illuminatefilmfestival.com.