The Chocolate Touch: Gayle Harte to bring her hand-crafted treats from Michigan to Cottonwood

Originally Published: May 26, 2018 1:11 p.m.
COTTONWOOD -- Gayle Harte has always loved chocolate. She said she started making it in a saucepan over a stove in her home in Michigan almost 40 years ago. She has been making chocolate ever since.
Now, she's bringing her chocolate touch from Royal Oak, Michigan to Cottonwood, Arizona.
"I am excited about being in this industry," she said. "Cottonwood reminds me of Royal Oak. We're hoping to pair up with the wine industry here."
Harte closed her 34-year-old business in Royal Oak – a suburb of Detroit -- this past Mother's Day. A lucrative business, the company took in more than $1 million in revenue last year.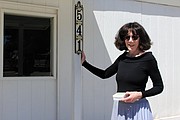 Sedona resident Michael Portnoy is partnering with Harte as she moves her business to Old Town. Harte plans to retire in Sedona but will still be involved with her business in Cottonwood, said Portnoy.
"She's got a good footprint," he said. "My son is interested in working in the business full-time. It's just something we want to pursue. We love her chocolate"
Harte's artisan chocolates are hand-crafted into custom shapes from animals, to high-heeled shoes, to even cars and trucks. All ingredients are natural, Harte said.
"We never use artificial chocolate," she said.
Her business also has an online presence at www.gayleschocolates.com for those interested in ordering custom-branded items.
The new location in Old Town will be located at 541 N. Main Street with one half of the facility being for retail and the other half for chocolate production.
Harte said the timeline of opening up the business is still in flux but hopes to get everything up in running before the holiday season.
"We got to be ready," she said. "Our biggest season is Christmas."
Harte said she has seen a lot of change in the chocolate industry with the blending of different beans from all over the world. She said she is excited to see where it goes.
"At first I thought no one would tell the difference but there is a big difference," she said. "I am going to do more of that."
--Follow Kelcie Grega on Twitter @KelcieGrega
SUBMIT FEEDBACK
Click Below to: