Gone Green Superfoods in Sedona celebrates 10 years of organic chocolate bars

By
Halie Chavez
|
@haliephoto
Originally Published: May 26, 2018 12:56 p.m.
SEDONA -- William Hamburg was born in Belize, so it was the first place he sought a source of raw cacao.
In 2008 he found the source he was looking for: a Belizean farm of about 1000 farmers. After returning to Sedona and finalizing contracts, Hamburg co-founded Gone Green, a cacao production company, with his friend and now operations manager, Adam Watts.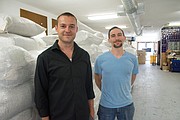 Cacao is used to make cocoa, and thereby, chocolate bars. The name Gone Green came from Hamburg and Watts' decision to be sustainable from "farmer to consumer," focusing on "social, economic, and environmental solutions for all people worldwide," according to Hamburg. The company plants one tree for every product sold on their online store in partnership with Trees for the Future. Gone Green has planted over 200,000 trees so far, according to Hamburg.
The process looks like this: cacao farmers are paid "more than adequately – double the market price," according to Hamburg, Gone Green imports and manufactures organic craft artesian chocolate products at an "affordable" price, leaving retailers with enough room to make a profit.
"There's other bean to bar chocolatiers in Arizona, making chocolate that is very comparable to this… what we did is, we're one of the largest importers of cocoa [in the state,] so we have the capability to manufacture it and keep our cost low," Watts said.
Gone Green now produces an average of 100,000 chocolate bars a month with a record production of 250,000. The bars retail in Whole Foods and Natural Grocers across the country.
Hamburg and Watts created Sedona Sweets, a "Sedona" chocolate bar where thirty cents of every bar goes toward private schools in the community. Both men grew up in Sedona, so "giving back to the community is important to us," Watts said.
Raw cacao beans to tempered chocolate bars
The Gone Green chocolate production process happens entirely at the Sedona location.
After arriving in a shipment from Belize, the whole cacao beans are first sent through a crushing machine to separate the "skin" from the "meat" of the nib. A vacuum removes the skin from the nibs.
"[The nibs] are the darkest chocolate you'll ever eat in your life, it's pure cacao," Hamburg said.
The nibs are then placed in a grinder of stone wheels for 24 to 36 hours, ingredients depending on the product are added, then ground for another 24 to 36 hours.
The finely ground mix and ingredients will then be tempered – an important step for chocolatiers. Proper tempering gives chocolate a shine and allows the chocolate to break cleanly.
The finished product is a shiny chocolate bar, packaged cleanly in a wrapper.
-- Follow Halie Chavez on Twitter @haliephoto
SUBMIT FEEDBACK
Click Below to:
More like this story