Mingus Muckers rack up state wrestling titles
Eighth grader Isaac McKean wins five state championships, middle school Triple Crown
Originally Published: May 26, 2018 1:22 p.m.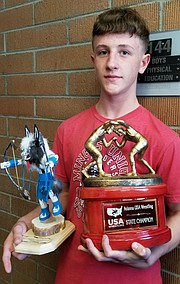 Led by Isaac McKean and Kai Miller, Mingus Muckers wrestlers collected a host of trophies at the Arizona USA State Freestyle Championships.
Mingus had six placers, including Isaac McKean, who complete the Triple Crown and won the five state championships available to middle school aged wrestlers in the state.
"Isaac did great, he went undefeated in Arizona all the way from November to May, he won outstanding wrestler at a number of tournaments," Coach Klint McKean said.
Isaac McKean won the club state tournament, the team state tournament, the folk style state tournament, the freestyle state tournament and the Greco-Roman style state tournament.
"It was really exciting, yeah I've been wanting that all year," Isaac McKean said.
The freestyle tournament capped quite the school year for the high school freshman to be.
"This past Saturday he won the freestyle state tournament, by teching everybody, beating everybody in the first period and was also awarded the Triple Crown award for winning all three styles in Arizona USA wrestling," Klint McKean said.
Folk-style is the type they wrestle in high school.
Eighth-grader to be Kai Miller also won the state title at the freestyle tournament. He won three state championships and the championship match in dramatic fashion.
"He had our best match of the tournament last weekend, in the state finals," Klint McKean said. "He was losing 9-0 after the first period. In freestyle 10 points is a technical fall, which means like a mercy rule, match ends, so he was one point away and went back out the next period, caught his opponent on his back and he pinned the kid. Losing 9-0 he pinned him, so it was great, really good win for him, a lot of excitement in the gym around that time, everyone was talking about it."
Miller came close to the Triple Crown but his Greco-Roman tournament was the first time he wrestled at state.
Klint McKean, who also serves as the Mingus Union High School head wrestling coach, said the different styles are like different strokes in swimming.
"It's an adjustment, not only in learning but because the scoring is different, you have to switch gears from one style to the next," Klint McKean said. "It's kind of like all the different styles of strokes in swimming and when you get one in your head, it can be difficult to automatically go right into that next one, different scoring, different rules."
For Isaac McKean, his favorite is probably freestyle.
"It was fun," Isaac McKean said about wrestling the different styles. "I had done it last year but I got more into it this year because I was more experienced."
Miller was in the 97 pounds weight class. Isaac McKean was 118 at the start of the year but finished the season at 130 as he kept growing.
"It's a lot of confidence too, in yourself," Isaac McKean said. "It changes how you wrestle, like you're more confident to try newer moves and stuff."
At the freestyle championships, Stephan Dixon took second, Elias McKean third, Dakota Jeffords fifth and Nathan Dixon fifth for the Muckers.
"It was good, we did good, there's a couple kids that did really well and then the other kids did good," Isaac McKean said.
Isaac's father said they had a good school year.
"It's our first time that we've taken them to do the other styles, freestyle and Greco, so it's brand new for all of them competing and they did really well and we're really happy with not just the guys that made it to freestyle state tournament, but of all of our wrestlers who came in and practiced but didn't make it to that tournament, we had a good group of kids in here all spring," Klint McKean said.
More like this story
SUBMIT FEEDBACK
Click Below to: