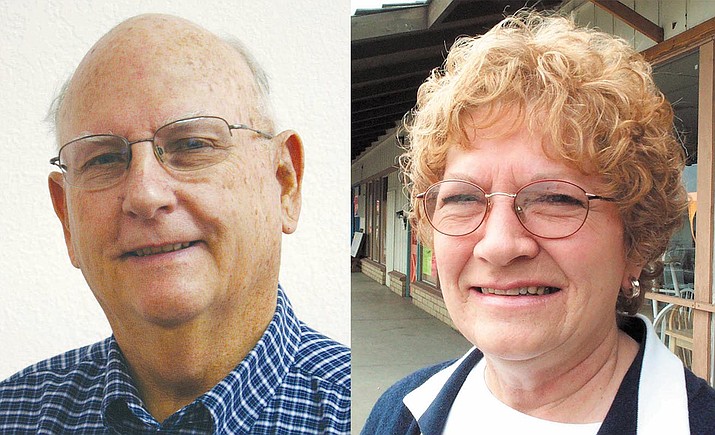 Originally Published: May 31, 2018 7:21 a.m.
CAMP VERDE – Local voters will have plenty to choose from in the 2018 Camp Verde Municipal Primary in August.
Town Clerk Judy Morgan said two candidates met Wednesday's 5 p.m. deadline to qualify for the primary ballot for the mayor's post in Camp Verde, while five candidates will vie for three seats on the Town Council.
Competing for the mayoral post will be incumbent Charles C. German and longtime Council Member Jackie Baker.
German was first elected as Camp Verde's mayor in March 2013, capturing 56 percent of the vote against incumbent Bob Burnside. German was re-elected in 2016, this time capturing 55 percent of the popular vote. His record of public service is not limited to his service as mayor, as German also previously served on the Camp Verde Fire District Board as well as the Camp Verde School Board. German is a retired school teacher, and also served for years as a volunteer fireman in Camp Verde.
Currently serving on the Town Council, mayoral candidate Jackie Baker has as deep a political resume as anyone in Camp Verde. Except for a two-year break in the mid-2000s, Baker has been a Camp Verde council member since 1999. Going back to 1986, Baker was among the core of volunteers who helped Camp Verde incorporate via petition drive, without the need for an election, a rarity in Arizona.
Camp Verde's municipal primary will feature five candidates seeking three four-year terms on the council. With Baker opting to run for the mayor's seat this year, Robin Whatley is the only incumbent seeking re-election in 2018. Others seeking election to the council in 2018 are Joe Butner, Bruce George, Carol German and Bill LeBeau. Incumbent Brad Gordon is not seeking re-election.
Whatley was first elected to the council in 2009, winning 28 percent of the vote in the 2009 primary. She was re-elected in 2013 and is seeking her third term this year.
Both Bruce George and Carol German previously served on the town council.
George was first elected to the Camp Verde Town Council in the 2011 primary, capturing nearly 25 percent of the vote. He was among those in 2015 who voted in support of a 0.65 percent sales tax increase and was subsequently targeted for recall, an election in which he prevailed by 107 votes in March 2016. George subsequently sought re-election later that same year but finished last in a five-person race in the August 2016 primary.
Carol German likewise was first elected in the March 2011 municipal primary as the top vote-getter with 29.2 percent of the vote. Because of a change in state law that moved Camp Verde's election cycle from March and May to August and November, she served on the council through 2016, failing in a re-election bid in the August 2016 municipal primary by finishing fourth in a five-person race.
Joe Butner is a newcomer to the municipal political arena, but is well known in the area following a long career as a Yavapai County prosecutor, Verde Valley Justice of the Peace, and as a pro-tem judge in the Yavapai County Superior Court system. Butner retired from his Superior Court judicial post in December 2016.
LeBeau is a newcomer to the political process. He has lived in Camp Verde for the past four years, having retired to the Verde Valley following dual careers with the U.S. Army, where he retired as an artillery major. He also worked for years as both a police officer and probation officer in Rochester, New York. While in Camp Verde, LeBeau has served on the board of directors of the Camp Verde Community Church and Camp Verde Community Library Endowment Board.
The 2018 municipal primary for Camp Verde will be Aug. 28. The 2018 general election will is scheduled Nov. 6.